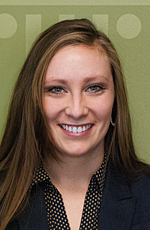 Amber (Davis) Christopher '11
Major: Advertising & Public Relations
Minor: Leadership
Current Job: Account Executive with AKHIA
Hometown: Ravenna, Ohio
Clubs/Organizations: Sigma Kappa, Up 'til Dawn, Public Relations Student Society of America, American Advertising Federation, Senior Interviewer, College Union Board, Student Senate, Student Alumni Association
Current Organizations: Christ Community Chapel Sunday School Teacher, Public Relations Society of America.
Favorite Professor: It's a tie between Dr. Mike Taylor and Dr. Jane Dailey. Jane Dailey taught the basics of PR, which is what I do in my position as an account executive. I fell in love with public relations through her courses. She was very thorough on proper writing of news releases, media relations and crisis communications. When interviewing for my position, I was able to convey my knowledge of public relations to my now employer, which lead to being offered the position. Dr. Taylor forced me to look at marketing in other cultures. Coming from a small town and small high school, I was very wrong about how marketing works in the world. He forced us to look at other countries and how their culture effects marketing efforts and the importance of understanding other cultures before entering into a market and it is something I have kept in mind when working on international marketing projects.
When did you know Marietta College was the right school for you?
From the moment I stepped on campus, my senior year of high school, Marietta felt right to me. I refused to apply to other schools (although my mom did make me submit two other applications). Despite not knowing what my major was going to be at that moment in my life, I knew Marietta would provide me with the tools and resources to achieve my dreams, once I knew what those dreams were.
Describe what life was like during your time at Marietta College.
I had a wonderful time at Marietta College. My days consisted of morning classes, afternoon naps and spending time with friends in the evenings. There was always something going on, on campus, whether it was a campus activity, sorority party or sporting event, we were never bored.
What impact did Marietta College have on your career?
Marietta provided me with the tools I needed to build my career. My professors were a nice range of full-time college professors and industry professionals teaching courses with real-life experience. They weren't naïve to lead us to believe getting our degree would be enough - they constantly pushed us to go get industry experience, whether it was job shadowing or internships, to further build our resumes for when we graduated.
Marietta's professors also really cared about the students. My professors were constantly encouraging me and letting me know about internship opportunities, networking events and other industry related events. My professors knew I wanted to go into agency work, and they looked for opportunities that would enhance my education and build experience for what I what I wanted to do specifically. That is an invaluable benefit you get from Marietta College. In some cases, Dr. Dailey would actually drive us to Columbus (almost two hours away) so that we could participate in an event. Many of my friends who went to larger universities had professors that didn't even know their names, none the less what they wanted to do with their lives.
What does it mean to be a Pioneer?
When you go to Marietta, you're a Pioneer. The moment you step on campus you are bonded and inducted into The Long Blue Line, and charged with the responsibility to uphold yourself to a higher standard. You're not just a college student. You're a Pioneer. And that means something. The legacy of Marietta College is well-known and students are expected to uphold that, while they are a student and well into their post-grad life. I'll always feel pride when I think back to my college days and reflect on Marietta College. Being a Pioneer is something to be proud of, today and always.
---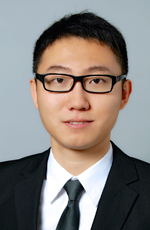 Chi Zhou '11
Major: Finance, Marketing
Additional Education: Master's in Information Technology and Management, University of Texas at Dallas (May 2014)
Current Employer: Credit Card Risk Analyst at State Farm Mutual Automobile Insurance Company
Hometown: Beijing, China
Clubs/Organizations: Tau Pi Phi
Favorite Professor: Dr. Mike Taylor and Dr. Jacqueline Khorassani
Education Abroad: Summer in Hong Kong
When did you know Marietta College was the right school for you?
During the first class I attended at Marietta College, I was aware that it was the right school for me. Since Marietta is a small town, it proved to be the best place for studying. What's more, the REALLY small class capacity gave me a wonderful studying experience.
Favorite Marietta moment?
I enjoyed the moment I walked onto the campus during the fall season to enjoy the beautiful campus.
Describe what life was like during your time at Marietta College.
Busy, but enjoyable. The small class capacity and the ratio between the students and professors lead to a better study experience. Thus, the professors have more time to take care of each individual student, although this sometimes may make your life very busy.
What impact did Marietta College have on your career?
I am proud of the experience I had at Marietta College.
What does it mean to be a Pioneer?
Every Pioneer should be proud of being Pioneer.
---