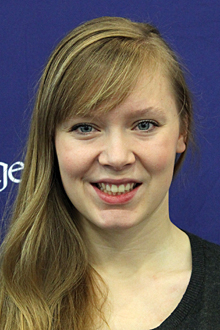 Emma Burger '14
Majors: Music Education
Certificate: Leadership Studies
Hometown: Mansfield, Ohio
Clubs/Organizations: Alpha Xi Delta Women's Fraternity, Symphonic Band and Wind Ensemble, Women's Choir, Oratorio Chorus, EXCEL Leader
Current Occupation: The American School of Madrid
Favorite Professor: Dr. Brent Yorgason
Education Abroad: I took a three-week trip to Costa Rica and Belize with the Leadership and Biology departments. While on the trip, we took a course titled "Conservation and Leadership." It was definitely one of the highlights of my college experience.
When did you know Marietta College was the right school for you?
I knew Marietta was the right school for me after my visit to campus where I met students and faculty. "Get in where you fit in" is a personal motto of mine, and I felt right at home.
Favorite Marietta moment?
One of my favorite Marietta Moments was saying goodbye to campus after our freshman year. Brett Notarius, Cole Turner, Maggie Behlen, and myself had a heartfelt goodbye in Mary Beach Hall. The moment sticks out to me because it was a culmination of one of the most amazing years of our life, with the promise of many more ahead.
Describe what life was like during your time at Marietta College.
Being a college student is one of the most difficult things to do, and on more than one occasion I found myself in a Scarlett O'Hara Moment... "If I have to lie, cheat, or steal... I'll never stay up until 5 a.m. again!" Thankfully, this difficult task is paired with the most amazing social experience of living with and going to class with, your best friends. College would have been insurmountable without the friendship, support, and laughter these people provide to one another.
The little things are what really defines the experience, like getting breakfast in Upper Gilman before class, checking your mailbox and getting envelopes filled with glitter from your best friend Mary Roberts, studying in the map room of the library, walking up The Mall through the tunnel of flowering trees in April, and the general shenanigans one participates in after dark. Yes, sometimes something really great happens on campus, but hundreds of really little, wonderful things happen every day and those are the things that make up life at Marietta College.
What impact did Marietta College have on your career?
Marietta had a huge impact on my career. When I arrived at Marietta I didn't know for sure what I wanted to do. However, the advising I received and the purposeful "First Year Experience" course gave me a lot to ponder and helped guide me to a decision about becoming a music teacher. After that first decision was made, everything else fell into place.
As a senior, the Career Center was very helpful in providing me resources and piles of encouragement for how to take the next step to gainful employment. Finding that first job is such a roller coaster ride of emotion. There are times when you feel like you are absolutely qualified and why wouldn't they hire me, and then moments of doubt, where you contemplate the vast number of people who are looking for the same job as you.
After being hired, I realized that there were a few things that I took for granted as something that everyone should know about getting a job. These things, like dressing well, using nice paper for your resume, coming into an interview with questions, generally being a positive and enthusiastic human being, were not as standard as I originally assumed. Marietta did a great job of teaching me how to be a professional, and that lesson, infused throughout all four years of school, has, and will continue to, serve me well in my career.
What does it mean to be a Pioneer?
Life is an opportunity, not a chore, and Pioneers are fully committed to the idea of living life to the fullest.
---