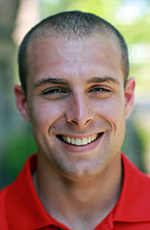 Jake Double '14
Major: Petroleum Engineering
Additional Education: Master of Arts in Corporate Communication, Duquesne University (2015)
Current Job: Production Engineer with Anadarko Petroleum
Hometown: Evans City, Pa.
Clubs/Organizations: Society of Petroleum Engineers, American Association of Drilling Engineers
Athletics: Baseball
Favorite Professor: David Freeman
When did you know Marietta College was the right school for you?
From the onset of my college search, I was set on becoming a petroleum engineer. I was exposed to the field during high school, and I was sure that it was what I wanted to do. However, at the time of my graduation, there were only 22 schools that offered petroleum engineering, most of them being in the south. When I was researching schools, I stumbled across Marietta through a baseball recruiting questionnaire. I hadn't heard of Marietta so I quickly searched it, and I was very excited to see "Marietta College Petroleum Engineering" come up as the first hit. After numerous visits and talking to Dr. Chase, I knew it was where I wanted to go. The petroleum engineering program was truly unique, and I was thrilled to have an opportunity to earn an internship as a freshman. Additionally, I had the opportunity to play baseball for the most prestigious Division III baseball program in the country. When I realized the significance of those two opportunities, I knew Marietta College was the place for me.
Favorite Marietta moment?
I don't have a single moment in particular, but I'd have to go with senior week. It has been a blast hanging out with all of my friends and not having to worry about schoolwork. This could be the last time we are all here at Marietta, and it makes for an incredible week.
Describe what life was like during your time at Marietta College.
The first two years were pretty rough. Trying to balance two demanding commitments was a task that took continuous hard work, diligence, and motivation. Marietta College baseball is a very demanding organization, and I gave everything I could to the program in the two and a half years I was a part of it. Additionally, the first two years of the petroleum program were very arduous. I worked extremely hard to stay on top of every class I was in, and this usually involved late nights and long weekends of homework and studying. The final two years took me down a new path. I gave up baseball in November of my junior year, which was one of the hardest decisions of my life. However, this allowed me to join and become active in numerous clubs and organizations, and it allowed me to enjoy Marietta College. Throughout my final two years, the petroleum engineering majors became really close as we spent so much time doing homework and hanging out on the weekends. In summary, I worked really hard in my four years here, and I enjoyed being a part of Marietta College. Although it was tough and some hard decisions had to be made along the journey, it was worth it in the end and I wouldn't have it any other way.
What impact did Marietta College have on your career?
Marietta College had a large impact on my career. Through the reputation and connections established by Dr. Chase and the rest of the Petroleum Engineering Department, I was able to obtain an internship all three summers of my college career and receive a job offer before I left campus.
What does it mean to be a Pioneer?
I think being a Pioneer means being part of a family you will never forget. Marietta College is a small place, and you really get know a lot of your classmates. Therefore, you establish lots of close friendships that will hopefully last the rest of your life.
---
Sarah Mayo '15
Major: Petroleum Engineering
Current Job: Drilling Engineer in the Deepwater Division (Offshore Gulf of Mexico) for Chevron
Hometown: Proctorville, Ohio
Clubs/Organizations: Society of Petroleum Engineers (SPE), Society of Women in Engineering (SWE), Student Athlete Advisory Committee (SAAC), Honor Societies included: Omicron Delta Kappa, Pi Epsilon Tau, Kappa Mu Epsilon and Alpha Lambda Delta.
Athletics: Played third base for four years on the varsity softball team
Favorite Professor: I enjoyed most of the Petro Department and Jamie Moshin, too!
When did you know Marietta College was the right school for you?
The first time I stepped out of the car on my first visit to the school in November, I knew it would be a great fit. I fell in love with the campus because it was beautiful and reminded me of home. Everyone was so willing to help and answer all the questions I had. I had a personal meeting with Dr. (Bob) Chase and Coach (Jeanne) Arbuckle and they sold me on petro and softball. I then came back and competed for more scholarship money during the Pioneer Scholarship Competition, and was fortunate to win the Trustees' Scholarship (full tuition). That pretty much sealed the deal for me.
Favorite Marietta moment?
My favorite Marietta moments have involved sports of some sort. I really enjoyed our spring trips to Florida for softball and competing in the OAC tournament for two of my four years at Marietta! Outside of softball, it was so much fun watching our other athletic teams excel! The men's basketball team was especially fun to watch! Nothing compares to being in the Ban Johnson Arena when it's packed to capacity and watching our team demolish an opponent!
Describe what life was like during your time at Marietta College.
Life at Marietta College was a lot of fun. I lived on campus in Marietta Hall my freshman year and then in Harrison Hall the following three years. Marietta Hall was one special year for me. The dorm was made up of three floors of boys and one floor (top) of girls. The boys on the first were international students and some upperclassmen. The second floor was home to mainly petro majors. The third floor was filled with athletes. Last, the top floor had a random mix of girls and every (all six) petro majors. We all became super close that year since we battled the same elements: no air conditioning, climbing stairs, not the newest of the buildings, and a community bathroom. However, it was so much fun and set the foundation for the next three years of school.
I was on a meal plan every year, but they got smaller and smaller each year. I ate in the dining hall every meal it seemed my freshman year, but by the time I was a senior I was only eating lunch in the dining hall. I made the rest of my meals in my dorm room or went out to eat.
I attended practice most days and had class as well. Classes were the most stressful my freshman year as I carried 18 hours and 3 labs both semesters, and the second semester I was playing a sport on top of that. Because of the stress, I decided to take online summer classes through Marietta to ease up my course load a little. These definitely helped in the long run. The following three years I had an average of 14 hours a semester, with one 18-hour semester. By my last semester at Marietta I only needed 10 hours to graduate!  It was so wonderful and made that semester one of my favorites!
Living in the dorms helped with studying because most of your classmates were in the same building or a short walk away to meet up. We had access to the library and other campus resources to help us with our work. Dorms also help build stronger friendships that I hope carry through for the next several years since we all have graduated. It was never hard to make it to a sporting event on campus, grab a bite to eat, study, or just hang out. Many days when it was either very pretty outside or filled with snow, you could find many college kids out playing in the courtyard near Harrison. Marietta is small, so most of the time we were making our own fun in our free time.
I believe the campus at Marietta is arranged to make things easiest on students (on top of just being beautiful). Professors always have their door open and are willing to help as much as they can as long as you're willing to seek it out. There are continuous resources on campus to help students succeed. The DBRC was used often as my friends and I would work out there, store our practice gear, shoot some hoops, and just meet to talk with friends. It was just a really nice four years and life wasn't too bad.
What impact did Marietta College have on your career?
Marietta had a huge impact on my career. The school, the petroleum program, and the softball program have molded me into the person I am today. Four years ago I came to Marietta on a visit and seeking help with a science fair project. Dr. Chase was more than willing to sit down and take the time to explain to me what I needed to know as well as explain some of the department to me. He then had Dan Jones take me on a small tour of the school. This is when I started to fall in love with the campus and the staff. They all just seemed to care so much and the campus was lovely. Anyway, I ended visiting here and then after the scholarship competition, I committed. Because of Marietta and the chance they took on me with the Trustees' Scholarship, I am leaving Marietta with a 3.93 GPA, an amazing degree, four wonderful years of softball, and zero school debt!!! I owe a big thanks to Marietta and my parents for making that possible. It is a great feeling not having to worry about paying back school loans. Because of the petroleum program, I have had the opportunity to work three summer internships (one in Arkansas, and two in Houston, Texas). Because of these internships I was able to gain the experience needed to land the full-time job I wanted! Because of the softball program, I have learned to take criticism, become coachable, dedicate myself to a task, learn to fail, learn to be successful, and just have a great time all at once! As you can see, the school has done a lot for my career.
What does it mean to be a Pioneer?
This is a hard one…
I guess being a Pioneer means different things to different people. For me, being a Pioneer means giving 100 percent in all that I do. If you give everything your all, you can never fully fail in my opinion. You may not be good at everything, but you'll find one or a few things you are truly passionate about and can succeed in, and those are the things you will do or use to help make a difference. Pioneers find ways to better not only better themselves, but also those around them. By doing this, they impact the world in which we all live in a positive manner. I truly think the staff and faculty at Marietta strive to teach us this. Don't do anything half-heartedly. Give it your all … all the time. Through your work or another means, you will find a way to impact those around you and give back to your community.
---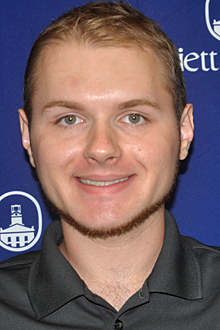 Eric Onacila '15
Major: Petroleum Engineering
Minor: Geology
Current Job: Anadarko Petroleum Corporation
Hometown: Strongsville, Ohio
Clubs/Organizations: Society of Petroleum Engineers, Geology Club, American Association of Petroleum Geologists, Phi Beta Kappa, Omicron Delta Kappa (Leadership), Pi Epsilon Tau (Petroleum), Ultimate Frisbee
Athletics: Ultimate Frisbee
Favorite Professor: Dr. Ben Thomas
Education Abroad: One week in Ecuador and 1 1/2 weeks in The Netherlands and Belgium
When did you know Marietta College was the right school for you?
When I first walked up The (Christy) Mall and saw all the classic MC buildings lined up along with the pumpjack outside of Brown.
Favorite Marietta moment?
One of the super rare snow days where many students got together for a massive snowball fight on the DU field.
Describe what life was like during your time at Marietta College.
Things were constantly going on. If there wasn't one club with something going on, then there was another activity or meeting taking place, homework getting done, groups studying or collaborating on a project, making time to go to the gym, or exploring the miles of running trails through the hills of Marietta.
What impact did Marietta College have on your career?
It made me realize there is more to being a successful worker and leader than just number crunching skills. I've met other engineers or engineering students and some of them hardly have any other social or communication skills. Being able to coherently present ideas and connect with your audience is something I'm glad I learned how to do.
What does it mean to be a Pioneer?
Being a Pioneer is putting in the time and effort to get something done right, even when others are only putting in partial effort, and knowing that what you're doing is the correct thing to do.
---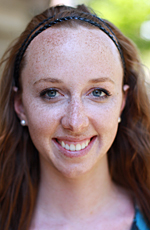 Nicole Schaly '13
Major: Petroleum Engineering
Current Job: Production Engineer, Anadarko Petroleum Corp.
Hometown: Ashland, Ohio
Clubs/Organizations: Up 'til Dawn, Society of Petroleum Engineers, Society of Women Engineers, American Association of Drilling.
Favorite Professor: Dave Freeman
When did you know Marietta College was the right school for you?
I came for a Blue and White day during the spring of my senior year of high school. I attended with the intention of being a petroleum engineering major, and learning more about the program while at the Blue and White day, made me decide I wanted to come to Marietta.
Favorite Marietta moment?
My favorite Marietta moment was one that actually happened outside of the country. Through the petroleum engineering department and Society of Petroleum Engineers, I was selected to attend Education Week as part of the International Petroleum Technology Conference in Doha, Qatar. I loved the opportunity to represent the United States and Marietta College. Being able to share my college and internship experiences with people of other cultures and learn from theirs was incredible.
Describe what life was like during your time at Marietta College.
My life at Marietta College was very busy. But it was busy because that's the way I wanted it to be. I wanted to be very involved and to focus greatly on my studies because I prefer to stay busy. Classes were tough so I spent a lot of time in the library! I greatly enjoyed all the organizations I was a part of, and they all helped me to grow as a student and I also gained leadership experiences.
What impact did Marietta College have on your career?
Marietta College had an enormous impact on my career. Through the petroleum engineering department and Dr. Chase's assistance, I was fortunate to obtain summer petroleum engineering internships after each year of school. I was able to spend these summers in Arkansas, Wyoming, and Texas. I perhaps would not have had these internship opportunities at another school. The faculty at Marietta do a phenomenal job of helping students obtain jobs and internships. I think this is a selling point of Marietta. At other petroleum engineering schools, there are so many students that professors do not have enough time to get to know each individual student and check in with them at various steps of the job search.
What does it mean to be a Pioneer?
To be a Pioneer means to embrace your collegiate community. I think Marietta is a very tight-knit school; faculty, staff, and students alike all come together closely throughout your four years here. It is very bittersweet to graduate; it is like leaving family members you've spent an incredible journey with.
---