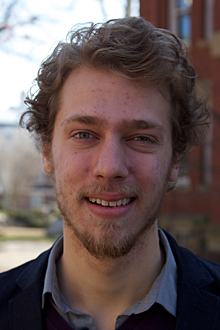 Keith Foster '13
Majors: Theatre
Current Job: Shakespeare by the River (playing Berowne in Love's Labor's Lost) and Pittsburgh Pride Theatre Festival (One-act play "(Un)Packing" being produced)
Hometown: Stow, Ohio
Clubs/Organizations: Alpha Psi Omega Theatre Honorary; Sigma Tau Delta English Honorary; Arts & Humanities Council; College Democrats; The Alliance
Favorite Professor: Oh…this is cruel. Way, way too many to pick just one. Jeff Cordell, Andy Felt, Dr. Carolyn Hares-Stryker, and Dr. Janet Bland for starters.
Education Abroad: I spent the Fall Semester (2013) in Prague through SIT Study Abroad.
When did you know Marietta College was the right school for you?
I knew that I wanted to be here on my second visit, when I came down to audition for the Fine Arts Talent Scholarship. Jeff and I got into an involved discussion of a whole host of different plays. I had rarely been in such intellectually stimulating discussions before MC - and then we got to talking about the program and all of the opportunities I could have, and I knew I wanted to work in that environment.
Favorite Marietta moment?
The first one that popped into my head was watching the performance of The Vagina Monologues my freshman year. I didn't know the piece at all, so I showed up with almost no expectations. The place was packed and the energy among the audience was something unparalleled. I saw women take the stage who seemed meek in everyday life, but up there in that supportive environment, they commanded the space and delivered a provocative, powerful, and moving message. I had no idea that community existed on this campus or that theatre that was so provocative could make such an impact. That really simple event both exposed something new about my peers on campus and what I could do with theatre during my time at MC.
Describe what life was like during your time at Marietta College.
It was sometimes great fun, sometimes incredibly maddening, but always busy and always informative. There's a convenience and accessibility that I miss more and more when I'm away from it. Being able to walk two minutes to grab some food, and then another two minutes to classes, the theatre, or the library enabled me to put what was important to me first without a lot of nonsense getting in the way. The smallness of the campus really gives the students the opportunity to operate at their maximum potential.
What impact did Marietta College have on your career?
I'm still in the early stages, so it's hard to tell. But I feel very well prepared to go out and fend for myself in the theatrical market. I took an auditioning and professional preparation course my sophomore year, and wanted some further instruction and course-time to dedicate to my own professional development, so I did an independent study last semester with Jeff Cordell. Between that and the plethora of opportunities I've had in the theatre department, I feel confident about how I present myself and the experiences I've had.
What does it mean to be a Pioneer?
The people that I've met in my time at Marietta who exemplified the "Pioneer Spirit" are those who took advantage of the opportunities. We hear that idea so often - "take advantage of the opportunities!" - that it starts to sound trite after a while. But those students who fully invested themselves in what was important to them, and wanted to improve themselves, the college, and the larger community always seemed to be the truest Pioneers. In their honest effort to better the community, they came up with the innovative solutions that we associate with Pioneers, and pursued them despite any pushback they may have received.
---