Charles G. Dawes
Class of 1884
U.S. Vice President, Nobel Peace Prize Recipient, and U.S. Ambassador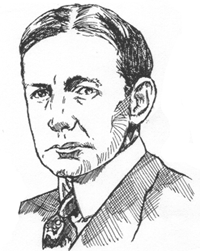 Few Americans have served the nation in more numerous and varied important capacities than did Charles Gates Dawes. Born in Marietta in 1865, he graduated Phi Beta Kappa from Marietta College in 1884.
Dawes became Comptroller of Currency (1898) under President McKinley; General of the Corps of Engineers and Chairman of the Purchasing Board of the American Expeditionary Forces during World War I; first United States Director of the Budget (1920) under President Harding; author of the Dawes Plan, the basis for Germany's reparations payments and for which he was awarded the Nobel Peace Prize of 1925; Vice President of the United States under President Coolidge (1925-29); Ambassador to Great Britain (1929-32) and first President of the Reconstruction Finance Corporation (1932) under President Hoover.
An extraordinarily able organizer and administrator, Dawes accumulated a personal fortune in utilities and banking, having founded the Central Trust Company of Illinois in 1902. He was a man of colorful characteristics, famous for his tart language, his underslung pipe, and his contempt for pomp. He authored several books and wrote the musical composition "Melody," which was popularized in the 1950s under the title, "It's All In the Game." Dawes was awarded an honorary Doctor of Civil Laws degree from Marietta College in 1919 and served on the Board of Trustees from 1896 until his death in 1951.
Lillian Sinclair
Class of 1923
Marietta College Registrar, Faculty Archivist, and Devoted Alumna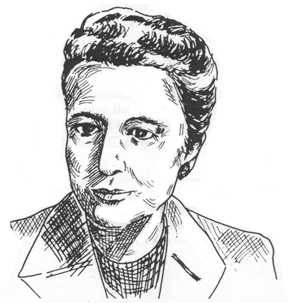 No member of the Marietta College community has known or cared more deeply about the College and the men and women who have constituted it than Lillian Spindler Sinclair. The personal friend of a host of students and alumni, over the years she became a veritable encyclopedia of valuable information. Her insights, cheerful willingness to be helpful at all times, and obvious love of the College have benefited the institution beyond measure.
Sinclair earned her A.B. in modern languages from Marietta College in 1923, having financed her education with a scholarship and through part-time campus employment as assistant to the Financial Secretary. Following graduation, she continued in that position full time until 1926, when she was appointed Registrar. From 1942 until 1972, Sinclair also served as Secretary to the Faculty. Although she retired in 1967, she agreed to stay on as Faculty Archivist a position she held until 1972, after a total of fifty-three years at Marietta College.
A charter member and past president of the Association of Ohio College Registrars, Sinclair was named Marietta's "Woman of the Year" by Zonta International in 1976. She received the Distinguished Alumnus Award from the Marietta College Alumni Association in 1978.
John G. McCoy
Class of 1935
Financier, Philanthropist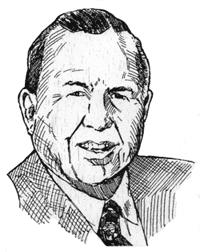 John G. McCoy is a devoted Marietta College alumnus, a man who has been involved not only with his alma mater, but with his community. He began his career at City National Bank and Trust in Columbus, Ohio, in 1937. After serving in the United States Navy (1943-45) as Chief Financial Advisor to the War Production Board, he returned to his banking career.
He became President of City National Bank in 1958, and rose to become its Chairman and C.E.O., while building it into the Banc One Corporation. He served as President and C.E.O., Vice Chairman and C.E.O., and Chairman of the Executive Committee of Banc One, retiring in 1984.
McCoy has received numerous awards, including a Certificate of Distinction from Financial World Magazine and the C. William O'Neill Distinguished Award for Achievement from the Marietta Chamber of Commerce. He received an honorary Doctor of Laws degree from Marietta College in 1981, and was inducted into the Ohio Foundation of Independent College's Hall of Excellence in 1991.
McCoy served on the Marietta College Board of Trustees from 1961-74, and continues as a Life Associate Trustee. He was instrumental in ensuring the success of the Sesquicentennial Anniversary Capital Campaign in 1980-85. In 1962, the McCoy family erected the McCoy Memorial Gateway in memory of their father, and in 1993 established the John G. and Jeanne B. McCoy Endowment for Teaching Excellence.
Colonel Dean Hess
Class of 1941
Clergyman, Soldier, Humanitarian
Dean Hess fulfilled a childhood dream when he was ordained a minister following his graduation from Marietta College in 1941. Believing he could not expect others to bear arms in defense of his country if he did not accept that responsibility himself, he enlisted in the United States Air Force during World War II and flew 63 combat missions.
With the outbreak of the Korean Conflict in 1950, Hess took to the air again, logging 250 combat missions for which he became known as "the flying parson." When he became aware of the plight of homeless, starving Korean children, he used army planes to fly over 800 orphans from Seoul to Cheju Island, in an effort known as "Operation Kiddy Car." Hess' own money, combined with contributions from other fliers, provided food and shelter for the children.
Hess wrote an autobiography entitled "Battle Hymn," which was made into a motion picture of the same name, premiering in Marietta in 1957. His royalties from both the book and the movie were used to construct a new orphanage near Seoul, Korea. Hess has received numerous awards, including the Military Order of Merit from Korean President Syngman Rhee, the Order of the White Elephant, a Presidential Citation, Legion of Merit, Silver Star, Air Medal with 19 Clusters, and the Ohio Governor's Award. He received an honorary Doctor of Humane Letters degree from Marietta College in 1956.
F. Story Musgrave
Class of 1960
Scientist, Physician, Astronaut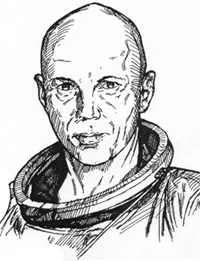 The holder of numerous degrees in the arts and sciences, including a B.A. in chemistry from Marietta College in 1960, F. Story Musgrave exemplifies the unlimited opportunities of the American educational system.
Musgrave began his career in aviation with the United States Marine Corps in 1953. Following extensive training and experience in aerospace medicine, he was selected as a scientist-astronaut by the National Aeronautics and Space Administration in 1967. He completed astronaut academic training and then worked on the development of the Skylab space station. In 1974, he became involved in the Space Shuttle program, designing and testing extravehicular activity equipment, including spacesuits, life support systems, and airlocks in manned maneuvering units. He has served on many shuttle flights, including those of the Challenger, Discovery, Atlantis, Endeavour, and Columbia. In 1993, Musgrave led three other astronauts on the repair mission of the Hubble Space Telescope. He performed three of a record five spacewalks during this eleven-day flight, successfully restoring the Hubble to its full capabilities and adding to our knowledge of the universe.
Musgrave was awarded an honorary Doctor of Science degree from Marietta College in 1983. Known as NASA's "Renaissance astronaut," he is one of the oldest humans to ever travel in space.