Bernice Eddy Wooley
Class of 1924
Scientist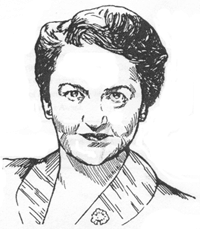 Born into a family of physicians in Glendale, West Virginia, Bernice Eddy Wooley graduated from Marietta College in 1924 with a degree in bacteriology. She studied immunology on a fellowship at the University of Cincinnati, receiving her Ph.D. in 1927, and was awarded a teaching fellowship in bacteriology in 1929.
In 1937, Dr. Eddy joined the National Institutes of Health where she became nationally prominent in virus research and made several significant discoveries. She played a key role in testing the inactivated poliovirus vaccine for safety, and along with a collaborator discovered the polyoma virus. One of the early known cancer-causing viruses, it was later named the SE (Stewart-Eddy) Polyoma Virus in their honor. It was the work of Dr. Eddy and others that led to safe polio vaccines through thorough testing, and provided a major impetus for further research on cancer viruses. While her work was sometimes controversial, she maintained the courage to stand by her discoveries.
Dr. Eddy received an honorary Doctor of Science degree from Marietta College in 1955, and the United States Department of Health, Education and Welfare awarded her a Superior Service Medal in 1967.
Frank M. Fenton
Class of 1936
Businessman, Loyal Alumnus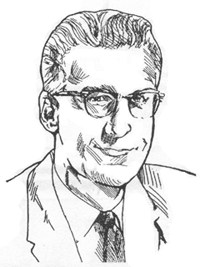 Frank M. Fenton was born in Williamstown, WV, on December 1, 1915, the son of Frank L. Fenton, founder of Fenton Art Glass. After graduation from Marietta College in 1936, he joined the family company, holding the position of president from 1948 to 1978. It was under his guidance that Fenton Art Glass became nationally recognized. Fenton has also served as the company's design director, chairman of the board and historian. Known for his extensive knowledge of American glass, Fenton was responsible for establishing the Fenton Art Glass Museum.
While a student at Marietta College, Fenton was a member of the Delta Upsilon Fraternity, Glee Club, and Gold Key. He participated in crew and was a member of the Ohio Conference championship basketball team in 1936. In 1954 he was named Marietta College Trustee and served as Board president from 1966 until 1975.
Fenton has been the recipient of many honors, including the Marietta Jaycees' Young Man of the Year award in 1950, an honorary Doctor of Humanities degree from Marietta College in 1979, and Rotary's Paul Harris Fellow award for service to the community, church, Marietta College and promotion of the arts in 1996.
Betty Gephart Frey
Class of 1937
Teacher and Literary Pioneer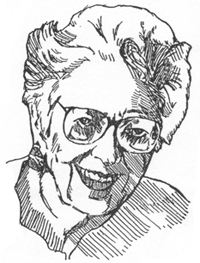 A dedicated teacher, Betty Gephart Frey has devoted her life to instilling in others her love of reading. She has touched thousands of lives across the United States and in other countries by teaching people to read and by training others as literacy tutors.
After graduating from Marietta College in 1937, Frey taught voice at the Ohio State University and later received a Master of Education degree from the University of Arizona. In 1961, she founded a group that became the Literacy Volunteers of Tucson Arizona, an organization that has grown into 20 literacy centers with 650 students and 130 volunteers. Following a twenty-five year teaching career, Frey retired in 1979, but has continued to work as a literacy volunteer. She has taught as far away as the palaces of the Royal Family in Saudi Arabia, and in 1996 alone, she tutored students for more than 500 hours. She has also written books that aid in teaching of English as a second language.
In recognition of her devotion to promoting adult literacy and education, Frey has received many awards including the Scripps Howard Foundation's Distinguished Service to Literacy Award, Tucson Sertoma International's Service to Mankind Award, and the American Association of Retired Persons' Legacy Award. In 1999, she was honored by President William Clinton with the President's Service Award, sponsored by the Points of Light Foundation.
C. William O'Neill
Class of 1938
Statesman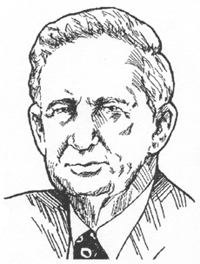 C. William O'Neill is the only person in Ohio history to head all three branches of the State's government. His public service includes the posts of Speaker of the Ohio House of Representatives, Governor of Ohio, and Chief Justice of the Ohio Supreme Court.
Born in Marietta, O'Neill became a Phi Beta Kappa graduate of Marietta College in 1938. That same year, he was elected to the Ohio House of Representatives and promptly dubbed the "boy wonder of Ohio politics." O'Neill's term in the Ohio House extended from 1939 to 1950, and though his position exempted him from the military, he served from 1943 to 1946 in the armed forces with General Patton's Third Army in Europe. In 1947 he became the youngest Speaker of the House in Ohio history.
O'Neill's career continued to rise with his election as Attorney General of Ohio in 1950, and again he was the youngest Ohioan to hold the office. In 1957 he became Governor of Ohio, and during his two-year term helped initiate the interstate highway system. O'Neill was elected to the Supreme Court of Ohio in 1960, and from 1970 until his death in 1978, he served as Chief Justice. During his time as head of Ohio's judiciary system, he instituted a series of judicial reforms that became models for other states. A proven legal scholar, innovator and leader, O'Neill was recognized in 1974 by the Trial Lawyers of America as the Most Outstanding Appellate Judge in the nation, and in 1975 received the National Criminal Justice Award.
Edward G. Harness
Class of 1940
Industrialist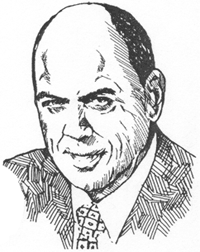 Marietta native Edward G. Harness distinguished himself both in his business career and in his service to Marietta College. After graduating cum laude from Marietta College in1940, he joined Procter & Gamble, starting in the advertising department. His career was interrupted by a military leave of absence from 1942 to 1946, during which time he attained the rank of Major in the United States Air Force. In the executive ranks, he rose in Procter & Gamble from vice president of the paper products division in 1963 to president in 1971, and chairman of the board and C.E.O. in 1974. Harness stepped down as C.E.O. in 1981 to become chairman of the executive committee. Under Harness' leadership, Procter & Gamble's sales doubled and it became the world's largest manufacturer of consumer products.
Harness received many awards including a Distinguished American Award from the Marietta Chamber of Commerce, designation as a "Great Living Cincinnatian" by that city's Chamber, and Man of the Year by the Tau Pi Phi national business honorary. He received an honorary Doctor of Laws degree from Marietta College in 1972.
Harness served on the Marietta College Board of Trustees from 1961 until his death. As chairman of the board from 1975 to 1982, he is credited with directing the College through turbulent and financially threatening times, helping it to thrive rather than merely survive. Harness died in 1984, but is remembered through the Edward G. Harness Endowment which is awarded to Marietta College faculty in recognition of distinctive teaching achievement.