Alfred T. Goshorn
Class of 1854
Civic and Cultural Leader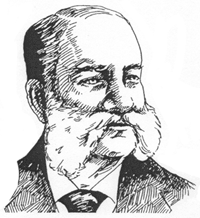 A cultural leader with great executive ability, Alfred T. Goshorn dedicated much of his life to helping his hometown of Cincinnati, Ohio, flourish and grow. Born there in 1831 on the family homestead, he committed his life, love and talents to the city until his death in 1902.
Goshorn graduated from Marietta College in the Class of 1854 and continued his studies at the Cincinnati Law School, finishing in 1857. He practiced law until the outbreak of the Civil War, when he entered the Union Army and commanded the 137th Ohio Volunteer Infantry as Major. Taking an interest in business after the War, he became proprietor of a paint manufacturing company, and was for two years president of Cincinnati's City Council. Known throughout the city for his excellent business and civic leadership, Goshorn organized several of Cincinnati's annual Industrial Expositions. Those successes led to his selection as Director General of the Philadelphia Centennial Exposition (1876) to commemorate the 100th anniversary of the signing of the Declaration of Independence. His achievements in this endeavor won him many national and international honors, including a knighthood bestowed by Queen Victoria. Goshorn returned home to focus his attention on cultural institutions, most notably the building and furnishing of the Cincinnati Art Museum.
Elected a Trustee of Marietta College in 1871, Goshorn served until his death. He was awarded the degree of Doctorate of Laws in 1877. He gave generously to the College's endowment and a bequest allowed the 1903 construction of the A. T. Goshorn Gymnasium.
Francis B. Loomis
Class of 1883
Civic and Cultural Leader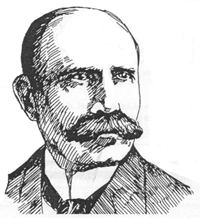 A friend and advisor to four presidents, Francis B. Loomis began his career as a newspaperman, editing the Marietta Leader, his hometown newspaper, while a student at Marietta College. A year following his 1883 graduation, Loomis became a reporter for the New York Tribune and later assumed a campaign press relations position. Loomis returned to Ohio to serve as State Librarian for two years (1885-87). It was during the administration of President Harrison that Loomis first entered government service as consul at St. Etienne, France, remaining there and at Grenoble, France, until 1893. For the next three years (1893-96) Loomis returned briefly to journalism as editor of the Cincinnati Daily Tribune. President McKinley appointed him Envoy Extraordinary and Minister Plenipotentiary to Venezuela in 1897 and Minister to Portugal in 1901. A year later, he was recalled to Washington and was appointed First Assistant Secretary of State. It was during this tenure that he became associated with the reorganization of the American Red Cross, serving as a charter member.
In 1905 Loomis was named U.S. Secretary of State. His commissions included final negotiations which resulted in the acquisition of the Panama Canal Zone; service as special ambassador to France to receive the body of John Paul Jones; and Special Envoy Extraordinary to Japan, arranging the visit of the U.S. fleet to that country in 1908. Shortly before World War I Loomis returned to private business as foreign trade adviser to Standard Oil Co. serving until retirement. He died in 1948 in the San Francisco Bay area.
Lois Coots Tonkin
Class of 1940
Aviator and Meteorologist
It was while a pre-medical student studying biology at Marietta College that Lois Coots Tonkin of Parkersburg was first introduced to the rapidly developing field of aviation. She embraced this interest: it became her passion and transformed her life. One of the first women in the United States to qualify for the Civilian Pilot Training course of the Civil Aeronautics Authority, Tonkin earned her wings following her Marietta College graduation in the summer of 1940, receiving both a private pilot's and ground instructor's license. Employment quickly followed as a ground instructor teaching tyro pilots at a Detroit, MI airport.
With the outbreak of World War II, Tonkin received a Civil Aeronautics and Weather Bureau Scholarship to train as a meteorologist at New York University's College of Engineering. The first and only woman in the N.Y.U. class, Tonkin went on to become the first professional woman to win a post in the District of Columbia's Central Office of the Weather Bureau, serving as assistant to the head of Research and Training. While with the Weather Bureau, Tonkin devised correspondence courses for Bureau field observers, prepared exams for graduate school meteorology students, and was assigned a commission to recruit as many as 30 to 40 qualified young women throughout eight northeastern states for training as meteorologists.
A pioneer for women in the field of aviation and meteorology, Tonkin, and those who followed, made significant contributions to the war effort and their profession.
Zane E. Barnes
Class of 1947
Communications Industry Leader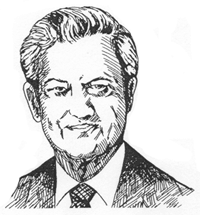 Well-known for his leadership at Southwestern Bell Telephone Corporation, Zane E. Barnes began his career in the communications industry in his native Marietta, where he was employed as a telephone lineman for Ohio Bell Telephone Company. Persuaded by his uncle, W. Bay Irvine, Marietta College president from 1948 to 1963, Barnes enrolled at the College at the age of twenty. Barnes's academic career was postponed during World War II while he served his country as a naval officer.
After returning to Marietta and earning his degree in math and physics, Barnes again joined Ohio Bell, serving in a variety of positions before being named assistant vice president. Barnes continued to rise through the ranks and was named company president in 1970. Three years later, he became president of Southwestern Bell Telephone Company headquartered in St. Louis and a year later assumed the duties of chief executive officer, eventually becoming chairman and CEO with Southwestern Bell Corporation in 1983. Barnes was named Chairman Emeritus in 1990.
A community leader, Barnes has received numerous honors and awards including: the St. Louis Globe-Democrat Man of the Year, the construction industry's PRIDE Leadership Award, and honorary Doctorate of Laws degrees from Washington University, Oklahoma Christian College and his Alma Mater, Marietta College. Barnes is a former member of the Brookings Institute, the Coalition of CEOs, and a former board member of TARGET, which combats alcohol and drug abuse. Barnes was elected a Trustee of Marietta College in 1972, serving as Life Associate Trustee since 1977.
Richard M. Krause
Class of 1947
Medical Scientist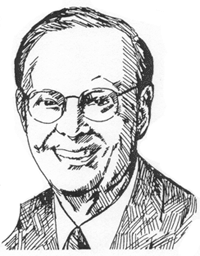 The son of long-time Marietta College chemistry professor E.L. Krause, Richard M. Krause was literally born into the Marietta College community from which he graduated in 1947. After earning his M.D. degree at Case-Western Reserve University, Krause embarked on a distinguished career in medical education and biomedical research. He was on the faculty with the rank of professor at New York's Rockefeller University and at Washington University in St. Louis.
In 1975 Krause was appointed Director of the National Institute of Allergy and Infectious Diseases. During his nine-year tenure, he made two-star rank of Assistant Surgeon General of the U.S. Health Service, was elected to the U.S. National Academy of Sciences for his distinguished achievement in biomedical research, and was named Fellow of the American Association for the Advancement of Science. Responding to the emergence of the AIDS epidemic, Krause organized field studies in Haiti and Zaire in search for the origin of the virus. In 1984, he was named Dean of the Emory University School of Medicine where he also held the University's title of Robert W. Woodruff Professor of Medicine.
In 1989, Krause returned to the National Institute of Health as Senior Scientific Advisor in Maryland's Fogarty International Center, where he remains actively involved in international health issues such as AIDS and emerging infectious diseases. The recipient of numerous national and international awards and honors, including an honorary Doctorate of Science degree from Marietta College in 1978, Krause is the author of more than 150 scientific publications. He served his Alma Mater as an active trustee, from 1979-2001, and thereafter as Emeritus Trustee.