Eliphalet F. Andrews
Class of 1853
Portraitist, Instructor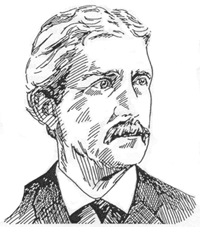 After graduating in 1853 from Marietta College, where he received his initial art training, Eliphalet Andrews studied with Ludwig Knaus at Dusseldorf Academy in Germany and with Leon Bonnat at Ecole de Beaux-Arts in Paris.
Andrews returned to his hometown in Steubenville, Ohio, to open his first studio in 1860. Known for painstaking detail in his portraits, he specialized in large-scale paintings. He painted portraits of two Ohio governors, including his friend, Rutherford B. Hayes. Following Hayes' election to the U.S. Presidency, Andrews moved to Washington, D.C., in 1876. There he painted a full length portrait of President Hayes which found a home in the White House, as did renderings of President Thomas Jefferson and First Ladies Martha Washington and Dolley Madison. Several of Andrews' works were exhibited at the nation's 1876 Centennial Exhibition in Philadelphia.
In 1877, at the behest of William Wilson Corcoran, banker and art patron, Andrews conducted a series of informal drawing classes at the Corcoran Gallery of Art. Ten years later, when the Corcoran School of Art was established, Andrews was named director, serving until 1902.
Many of his presidential portraits now hang in the collections of the National Museum of Art, the White House, the United States Capitol, the Corcoran Gallery of Art, the Ohio State House and in several Steubenville municipal buildings. Eliphalet F. Andrews died in Washington, D.C., in 1915 and was returned for burial to Union Cemetery in Steubenville, Ohio.
Frank Adair
Class of 1910
Surgeon, Cancer Specialist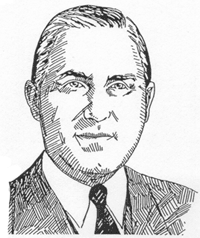 Following graduation from Marietta College in 1910, Dr. Frank E. Adair, a native of Beverly, Ohio, received his medical degree from Johns Hopkins University. During his 60-year career as a cancer specialist, he performed more than 17,000 operations and trained more than 1,000 surgeons.
Following service in France as a staff surgeon with the U.S. Army in World War I, Dr. Adair joined New York City's Memorial Hospital for Cancer and Allied Diseases, working in its newly established breast cancer services. As an executive officer of the hospital, he helped develop the clinical area of the Sloan-Kettering Institute for Cancer Research. Dr. Adair was attending surgeon at Memorial until 1952, when he was appointed attending surgeon emeritus, retiring in 1974. As a member of the Sloan-Kettering research team, Dr. Adair studied the influence of hormones on breast cancer development. He often reiterated his belief that "cancer should never be considered as an incurable disease" and lobbied to establish federal support for national cancer programs, serving as president of the American Cancer Society and Chairman of the Cancer Committee of the American College of Surgeons.
Dr. Adair served on the Marietta College Board of Trustees from 1937 to 1966 and as Emeritus Trustee until his death in 1981. He founded the College's Adair Prize to be awarded annually to an outstanding graduate. Dr. Adair received an honorary Doctor of Science degree in 1934 from Marietta College and an Honorary Doctor of Laws degree in 1947.
Alsoph H. Corwin
Class of 1928
Scientist, Professor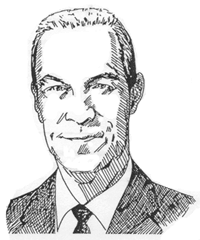 A native of Marietta, Ohio, 1928 Phi Beta Kappa graduate Alsoph H. Corwin went on to earn his Doctorate in chemistry from Harvard University in 1932. He started teaching at Johns Hopkins University that same year, continuing until his retirement in 1973. Corwin pursued many research interests during his tenure, one of which involved identifying the number of atoms in a molecule.
During World War II, Corwin developed chemical cures for poisonings of lead, mercury and other heavy metals. During his career spanning more than four decades, he served as an investigator for the National Defense Research Committee, as consultant to the U.S. Army Chemical Corps and as an investigator for the Office of Naval Research and the National Aeronautics Space Administration. He made significant contributions in several branches of chemistry with research leading to a clearer understanding of photosynthesis and the chemistry of chlorophyll and hemoglobin. He developed a chemical method for restoring highly-corroded copper antiquities, a process that helped decipher the Biblical Dead Sea Scrolls. His sense of inquiry led him to the study of food and environmental factors related to health. For this he was awarded the Jonathan Forman Medal of the American Academy of Environmental Medicine.
Corwin developed an approach in teaching that demanded and got the best from his students. Johns Hopkins University students honored him by endowing the Corwin Chair in Chemistry in 1989. Corwin received honorary Doctorate degrees from Marietta College in 1953 and from Johns Hopkins in 1987
Charles L. "Chick" Peterson
Class of 1953
Artist, Professor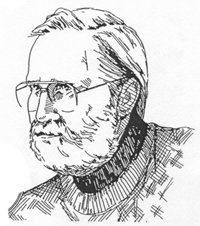 A 1953 Phi Beta Kappa graduate of Marietta College and later a revered professor, art mentor and friend, Charles L. Peterson taught at Marietta College from 1959 – 1973. Before coming to Marietta, he served in the U.S. Navy in the South Pacific.
The Elgin, Illinois, native worked as a commercial artist for Chicago's prestigious Leo Burnett Advertising Agency and studied at the American Academy of Art. He then transferred to Marietta College, where he earned his undergraduate degree. He received his Master's degree from Ohio University, taught at Concord College, and then returned to his Alma Mater. Peterson is credited with expanding the arts program by adding faculty and broadening the program to include printmaking, ceramics and sculpture. He designed the third floor of the Hermann Fine Arts Center. While teaching he also completed commissioned works of art and freelance illustrations.
A series of Peterson's watercolors was part of a European tour in 1961. Peterson retired to Ephraim, Wisconsin, in 1973 to devote full time to painting. Known for his detailed renderings of ships, sailing conditions, historical marine objects, and agricultural work, Peterson paints mostly in watercolor and oil. His very successful limited edition prints can be viewed in corporate boardrooms and private homes.
He received a Distinguished Alumni award from Marietta College in 1985, an honorary Doctorate of Humanities in 1988, and was honored as the College's first professor inducted into the Emeritus Chamber in 1997.
Joy P. Williams
Class of 1963
Author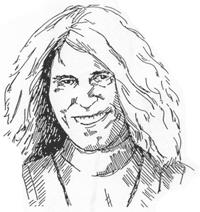 Joy Williams' writing talent was recognized early when at the age of 22 her short story, "The Roomer," was selected for inclusion in the O. Henry Awards Prize Stories 1966. Originally from Chelmsford, Massachusetts, this 1963 Phi Beta Kappa graduate of Marietta College went on to receive a Master's in Fine Arts in creative writing from the University of Iowa.
Williams was a researcher and data analyst for the U.S. Navy prior to the publication of her first novel in 1973. The novel, State of Grace, brought her widespread recognition and a 1974 National Book Award nomination. Noted for her precise and unconventional first-person writing style, Williams has since written several novels, numerous fiction and non-fiction articles for popular, contemporary magazines and a unique travel guide to the Florida Keys.
She was recognized with a National Endowment for the Arts grant in 1973, a Guggenheim Fellowship in 1974, the National Magazine Award for fiction in 1980, and the Academy-Institute Award in Literature from the American Academy of Arts and Letters in 1989. Williams was the recipient of the distinguished Harold and Mildred Strauss Living Award 1993-97. Called a "powerful writer of short fiction," she received the 1999 Rea Award for the Short Story, presented not for a specific work but for the writer's originality and influence on the genre. Her novel, The Quick and the Dead, was a finalist for the 2001 Pulitzer Prize for Fiction.