Rufus R. Dawes
Class of 1860
Brevet Brigadier General, U.S. Congressman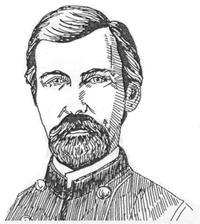 In response to the fall of Fort Sumter and President Abraham Lincoln's call to "suppress the Rebellion," Rufus R. Dawes, less than one year following his graduation from Marietta College, began to gather volunteers. Dawes was elected Captain of the resulting Company K in the Sixth Wisconsin volunteers, part of the "Iron Brigade."
Having led his Company in all the great conflicts fought in the East during America's Civil War, Dawes and his men fought gallantly for the Union on many battlefields including Gainesville, Second Bull Run, Antietam, Fredericksburg, Chancellorsville and Gettysburg. Dawes recounted the history of his regiment in Service with the Sixth Wisconsin Volunteers. Promoted to Major in 1862, Dawes moved up the military ranks until named Brevet Brigadier General in 1864 for meritorious service.
Following service to his country on the battlefield, he returned to Marietta and was elected to the U.S. Congress in 1880. His reputation as an orator and his influential voice for the establishment of diplomatic relations with Persia, prompted President McKinley to offer Dawes the position of Minister to Persia in 1897, a post he declined due to failing health.
A Trustee for Ohio's Institute for the Deaf and Dumb, Dawes often exerted his powerful influence on behalf of good government and social reform. Dawes also served on the Board of Trustees of his beloved Alma Mater from 1871 until his death, 28 years later.
Edward Marsden
Class of 1895
Minister, Educator, Musician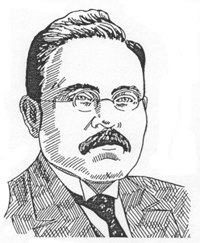 Son of a Tsimpshean Indian chief, Edward Marsden was born in 1869 at a Christian colony in British Columbia. Eighteen years later, Tsimpshean members of the colony fled to Alaska to escape "British tyranny and ecclesiastical oppression." By the age of 19, Edward had composed Tsimpshean hymns, cantatas and oratorios and had applied himself not only to books but to mechanics and the trades, becoming skilled as a brick maker, carpenter, blacksmith, engineer, and machinist and licensed as a marine steam engineer and navigator.
Having come to the attention of John Eaton, Marietta College President and former U.S. Commissioner of Education, Edward entered Marietta College in 1891. He continued his education at Lane Theological Seminary in Cincinnati, Ohio, and was ordained by the Presbytery of Athens before returning to Alaska to teach his people.
The Presbyterian Church sent Edward first to the village of Saxman. Later he started additional churches and missions in Ketchikan, Gravina, Loring, Metlakatlan, Chomley, Quadra, Moira Sound, and North Arm. These southeast Alaskan villages, accessible only by waterway, prompted Edward to build his own boats, including a steamboat he named The Marietta. In addition, he helped over 100 young men and women go on to further education in the States.
The Tsimpsheans of Metlakatlan, with Edward as their Presbyterian minister, built the "finest church in Alaska," dedicated and visited by President Harding in 1923. Marsden died in Ketchikan, Alaska, nine years later.
Charles W. "Chuck" McCoy
Class of 1942
Businessman, Philanthropist, Innovator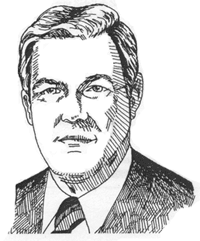 A native son of Marietta, Ohio, Charles W. McCoy followed graduation from Marietta College with studies at Stanford University, earning an M.B.A., and at Rutgers University's Graduate School of Banking.
Starting as a trainee with City National Bank (now Banc One), McCoy rose to Vice President and Director from 1944 to 1959. He designed more efficient and customer-friendly banking concepts, including the world's first successful drive-through bank.
In 1959 McCoy joined Louisiana National Bank (LNB) and within two years was promoted to president. Under his leadership the bank was the first in the state to install an automated teller machine and the first in the nation to issue debit cards. He established the first written Code of Ethics in the banking industry. Under his training program, 34 students eventually went on to become bank presidents. In 1981 LNB was recognized as the "most successful innovator of all U.S. banks during the decade of the 70s."
Involved in education reform, McCoy formed Education for a New Louisiana in 1985. Many Louisianans credit McCoy with the revitalization of Baton Rouge; and Former Governor John McKeithen credits McCoy and LNB with assuring the construction of the Superdome. In 1998 he was inducted into the Greater Baton Rouge Business Hall of Fame.
Now an Emeritus Trustee, McCoy served on the Marietta College Board of Trustees for 13 years. Named a Distinguished Alumnus at Marietta College in 1991, he was awarded an honorary doctorate of laws degree in 1996.
Frederick R. Sidell
M.D., Class of 1956
Physician, Teacher, Scientist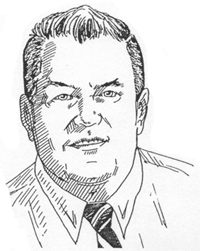 Following graduation from Marietta College and the NYU School of Medicine, Sidell completed his internship and residency in internal medicine at the Cleveland Metropolitan General Hospital. After spending two years in the U.S. Army, he was employed by the Department of Defense until he retired in 1995.
In the late 1960s Sidell and some colleagues developed a course for military medical personnel on the management of chemical agent casualties, of which he was course director for many years. More recently he prepared much of the teaching material and provided instruction in the Chemical Stockpile Emergency Preparedness Program and in the Domestic Preparedness Program.
Because of his expertise, in 1979 the Surgeon General's office sent Sidell to Southeast Asia to investigate the alleged use of "yellow rain" against the Hmong tribesmen of Laos. In 1987 he examined Kurdish civilian casualties who were victims of chemical warfare in their homeland, and in 1995 he traveled to Japan to assist and advise Japanese physicians on the care of casualties from the terrorist nerve agent incident on Tokyo subways.
Sidell's research and studies have been published in more than 90 reports. In addition to writing several handbooks, including one for civilian responders, he was the senior editor of the military's textbook on the management of chemical and biological casualties.
He has received several achievement awards and commander's medals, and in 2002, a new building at Aberdeen Proving Ground was named the Sidell Learning Center in recognition of his work.