Charles S. Harrison
Class of 1876
Educator and Physician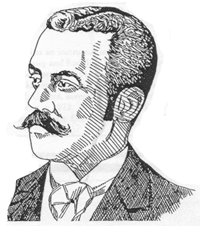 The 1876 Marietta College graduation of Charles Sumner Harrison held immediate significance; as one of eighteen men receiving diplomas that day, Harrison became the first black alumnus.
Born in Ohio in 1856, Harrison was the second son of George W. and Maria Harrison. Shortly after the Civil War, the family relocated to Harmar, where they were befriended by David and Hannah Putnam, whose home was an important station on the Underground Railroad and from whom the Harrisons purchased several parcels of land. It is very likely Douglas Putnam prevailed upon the Harrisons to send Charles to the Preparatory Department of Marietta College in which he enrolled in 1870 at the age of 14.
In the years following his college graduation, Harrison held positions teaching Latin and mathematics and serving as principal of a segregated high school. Having taken the Civil Service examination and scoring extremely high, he was called to Washington, D.C. in November, 1890, to assume a clerkship in the Medical Department of the Pension Office. Two years later, to better prepare for this work, he began studies in the Medical School of Howard University, where he received an M.D. in 1895. Though his chief work continued to be with the Pension Office, he also practiced as a registered physician in the Washington area. At the time of his death in 1912, Harrison had reached "the highest appointive office but one" in the Medical Department of the Pension Office.
Ruth M. Drew
Class of 1934
Research Bacteriologist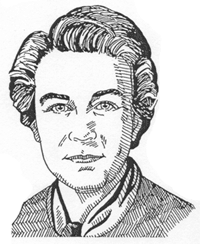 Ruth M. Drew graduated Cum Laude in 1934 as a biology major. While a Marietta College undergraduate, she authored a published scientific article and was the first to conduct transplanting experiments on living animals. She was inducted into the national biology honorary, Beta Beta Beta.
Following graduation, Drew attended medical school at the University of Cincinnati, receiving a master of science degree in pathogenic bacteriology in 1935. She began work as a medical technologist at the Good Samaritan Hospital in Cincinnati, OH, before becoming chief medical technologist at Holmes Hospital in the same city. In 1941 she continued graduate studies at the University of Chicago and in 1942 became a bacteriologist and immunologist for Parke-Davis in Detroit. In 1943 she joined the Army's First Service Command for a study of respiratory diseases in Army personnel.
Attending Harvard on a Harold Ernst Fellowship, Drew served as an instructor in pathogenic bacteriology and as a graduate student at both Harvard University and Radcliffe College, receiving a Ph.D. in medical sciences from Radcliffe in 1950. The prior year she had joined the staff of the Division of Microbiology of the Medical Department of Brookhaven National Laboratory, Long Island, New York. There she worked in the Medical Research Center, investigating the effects of radiation on bacterial and mammalian cells until her retirement in 1972. She was awarded an Honorary Doctor of Science degree from Marietta College in 1958. Dr. Drew died January 27, 1993.
W. L. "Bill" Kinney
Class of 1952
Petroleum Engineer, Inventor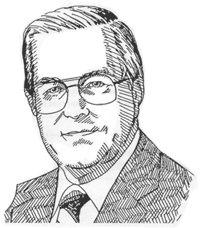 W. L. "Bill" Kinney earned his Bachelor of Science degree in petroleum engineering with the Marietta College Class of 1952. Later in his career he also attended the Harvard School of Business Management Development Program.
Following Marietta College, Kinney joined Marathon Oil Company, where he spent his entire career. Beginning in the swamps of Louisiana, his work with Marathon took him to many locations around the world. He rose to the position of president of Marathon International Oil Company before retiring to Horseshoe Bay, TX, in 1988. His greatest professional pride was the success of the Brae Field Development Project in the North Sea.
In 1984 he received the honorary Commander of the Civil Division of the British Empire (CBE) from Queen Elizabeth II. Kinney holds several patents, including Well Stimulation with Hydrophilic Fluids, Stimulation of Water Injection Wells with Micellar Dispersions, Stimulation of Producing Wells with Water-External Micellar Dispersions, and Process for Recovering Oil Utilizing Non-Newtonian Fluids.
An avid pilot, Kinney often came to the aid of those in medical need through his service to Angel flights. In 1984, he began 21 years of service on the Marietta College Board of Trustees, this following a five-year term as Alumni Trustee a decade earlier. Kinney served as Co-Chair of the Campaign for Marietta College from 1999-2003 and was an Emeritus Trustee at the time of his death on July 4, 2004.
Alan A. Baker
Class of 1954
Petroleum Engineer, CEO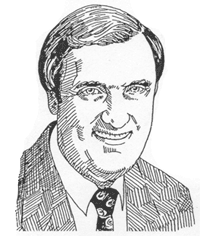 Alan A. Baker earned his Bachelor of Science degree in petroleum engineering from Marietta College, graduating in 1954. While an undergraduate, he was active in athletics and was a member of Pi Epsilon Tau and Omicron Delta Kappa honor societies.
Following graduation, Baker joined Halliburton Services, a former division of Halliburton Company at Zanesville, OH, and held a series of engineering and managerial assignments across the United States before being named Vice President of Domestic Operations in 1977 and Senior Vice President for U.S. Operations in 1980. In 1981, he was transferred to Singapore as Senior Vice President for the Far East region. After subsequent service with Halliburton Services as Senior Vice President for International Operations, Executive Vice President for Global Operations, and President and Chief Executive Officer, he was named Chairman and Chief Executive Officer of Halliburton Energy Services Group in 1989 until his retirement in 1995.
As a Registered Professional Engineer in the states of Ohio, West Virginia, Pennsylvania, Kansas, and Oklahoma, Baker has made professional presentations to world petroleum organizations in London, Moscow, Kazakhstan, China, Indonesia, Bahrain and the United States. His service to his Alma Mater includes a term as Alumni Trustee (1978-83) and continues as Life Associate Trustee and as a charter member of the College's Athletic Founders Board. Baker was named Marietta College's Distinguished Alumnus in 1994 and was awarded an honorary Doctor of Laws degree from the College in 1999.