Ross W. Lenhart
Class of 1966
Pioneer and Advocate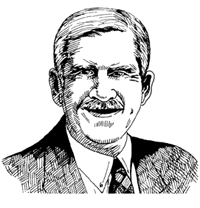 Upon graduation from Marietta College in 1966, Ross Lenhart embarked upon a 42-year career in admissions marketing that carried him from his alma mater all the way to a highly successful partnership in a company acknowledged as one of the nation's pioneers in developing communications and branding strategies for colleges and universities. During that time and even now in retirement, Ross remains a tireless advocate for the value of higher education and a mentor to young professionals and seasoned veterans alike as they tackle the challenges of sharing information on the potential benefit of a college degree.
Ross became Marietta College's Director of Admission in 1968. Under his leadership, the three largest classes in the history of the institution were enrolled. Prompted by that success, he struck out from the more established career path followed by admission executives and shifted his focus to the fledgling business of marketing and branding higher education, eventually becoming the chief executive officer of the educational division of Phoenix Communications, a firm credited with revolutionizing the recruitment strategies of clients across the country. For twenty-three years at Phoenix and, later with Stein Communications, Ross provided an articulate, innovative and respected voice in what has now grown into a billion-dollar industry.
Beyond his widely recognized ability to craft effective outreach and marketing programs and materials, Ross has worked tirelessly to advance the admission and educational communications profession through his active leadership in such organizations as the Georgia Foundation for Independent Colleges and the National Association for College Admission Counseling.
A constant in Ross's life has been his devotion and dedication to his alma mater. His service on the College's Board of Trustees was honored by receiving emeritus status for his outstanding contributions and leadership.
C. Barton Gullong
Class of 1970
Entrepreneur and Humanitarian
Since earning a bachelor's degree in English from Marietta College in 1970 and going on to complete a master's degree in Counseling and Psychology from Central Connecticut State University, Bart Gullong has enjoyed a career in business and product development, serving as consultant to such worldwide organizations as the U.S. and International Olympic Committees and NASA.
Bart joined On-Site Gas Systems in 1998 and was instrumental in the development of a portable oxygen generation system adapted for military use in far-forward military hospital units. Employed extensively in Iraq and Afghanistan, the systems were also used in the immediate aftermath of Hurricane Katrina in New Orleans.
At On-Site, Bart discovered that his partner had invented and patented a blood-clotting element, but had been unable to effectively market the product. Recognizing an opportunity to get a valuable and potentially life-saving item into wider distribution, Bart founded Z-Medica. Developing an application that adapted the crude product for more general distribution, the product, Quikclot, is now in use by the U.S. military as well as a number of other countries' military organizations.
Quikclot has been instrumental in saving the lives of many soldiers and Marines. Further innovation and development have yielded life-saving products for all situations where blood loss is an issue - for the soldier on the battlefield, the first responder on scene, the Doctor in the hospital, and now even the civilian at home.
Bart's recently formed Quikclot Foundation will ensure that even the poorest of countries and people will have access to this life-saving technology. He holds a 100-Ton Power and Sail All-Ocean Operators license and is the recipient of The Coast Guard Medal, the highest civilian award given by the USCG.
Christopher Cortez
Class of 1971
Leader and Motivator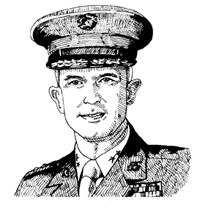 Upon graduation from Marietta College in 1971 with a degree in Spanish, Chris entered the United State Marine Corps. He was commissioned via the Platoon Leaders Program and since then has served on several operational tours including an assignment as Director for Operations, U.S. Pacific Command from 2000-2002.
Chris served with the 7th Marines and 3d Marines during operations Desert Shield and Desert Storm. As a Lieutenant Colonel, he commanded 1st Battalion, 5th Marines, a reinforced infantry battalion of 1,352 men, which was among the first units in Saudi Arabia during the first Gulf War. Chris went on to become one of only three Hispanics to attain the rank of two-star general in the 230-year history of the Corps before retiring in Dec 2004. In his final tour as Commanding General of the Marine Corps Recruiting Command in Quantico, Virginia, using his unique perspectives and position, he promoted the Marine Corps' message of opportunity to minority recruits and under his leadership the command exceeded every recruiting goal on an annual basis.
In September 2006, Chris joined Microsoft Corporation as the Managing Director, Worldwide Government Industry and currently he is General Manager for Strategic Operations, Public Sector, Americas and Asia Pacific.
The first in his family to be born in America after his parents migrated to the United States from Spain, his parents sacrificed a great deal for him and for his six siblings. Recognizing that effort and commitment on their part, he has chosen to contribute back to his community as an advocate for education and aspiration. His powerful message has transformed him into one of the country's most highly sought-after motivational speakers at diversity events.