Wilbur L. Schramm
Class of 1928
Pioneer Academician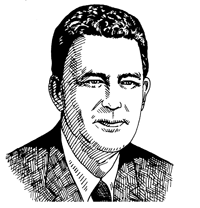 A Phi Beta Kappa graduate of Marietta College in 1928, Wilbur completed a Master's degree in English from Harvard in 1930 and his doctorate in English from the University of Iowa in 1935. That same year, he joined the Iowa faculty, attaining the rank of full professor in 1941 and thus was launched a most notable career as an educator, researcher and advocate for the field of communication studies.
During World War II, Wilbur worked with the Office of War Information before becoming the director of the University of Iowa School of Journalism and, later, director of the University of Illinois Press. During his time at Illinois, he founded and directed the Institute of Communications Research, establishing the first doctoral program and university-based communication research institute in the country.
In 1957 and 1973, he founded additional research institutes at Stanford University and the East-West Center in Hawaii. His work focused on television broadcasting and its impact upon children.
Recognized for landmark contributions in his field, Wilbur was often honored, but most especially with the creation of a chair in communication and health policy in his name at the University of Pennsylvania. Over his career, he authored more than twenty-five books and forty journal articles with some of his texts still in use today. At the time of his death at the age of eighty in 1987, he remained actively involved in the study of communication and was busy writing for publication.
Paul Spear
Class of 1964
Pioneer Advocate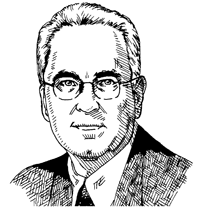 Upon graduation from Marietta College in 1964 with a degree in Biology, Paul joined the institution's faculty thus beginning a thirty-six-year relationship with his alma mater. During his tenure, he was not only an active and popular teacher, but a caring and dedicated athletic trainer and advisor as well as a thoughtful and innovative advocate in his field.
Paul completed his athletic training coursework at The Ohio State University and went on to receive a master's degree in Medical Physiology at Ball State University as well. For more than three decades at the College, he developed one of the premier sports medicine programs in the country and one of the first in the nation to be accredited as a full major by the National Athletic Trainers' Association, (NATA). It was also the first program in the state of Ohio to receive national recognition through the Commission on Accreditation of Allied Health Education Programs.
In addition to his time in the classroom, Paul worked extensively with the Marietta College Athletics Department providing athletic training coverage for a variety of sports and he remains active with Pioneer baseball to this day. A catalyst for the creation of the College's Physician Assistant Program, Paul continues to own and operate SportsMed, a fully dedicated sports medicine and family rehabilitation center that he founded in Marietta in 1986.