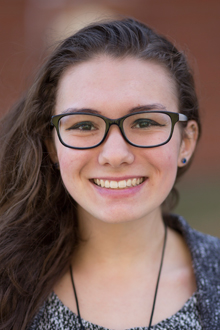 Mandee Young '18
Bachelor of Arts in Advertising & Public Relations
Employer: The Adcom Group
Job title: Project Coordinator/Assistant Account Executive
Can you tell us how you arrived at your current job with The Adcom Group?
A couple of months before graduation, I started applying to jobs I found posted on LinkedIn, trying to go the extra step with those by finding someone to contact directly whenever possible. I was also using the Career Center as the great resource that it is, which helped me get a hold of people that way too. In the end, I'm just another example of the power of Marietta's alumni network.
In a way I didn't go at it alone when it came to my job search — I reached out to Marietta alumni, both those I knew and those who worked within my intended industry — and asked them to keep their eyes and ears open for me. One alumna, Nikki Hanaway had recently moved to Adcom and knew that my now-boss was looking to fill a role but wasn't planning to advertise the position actively. She sent my information along, I had an in-person interview during finals week, and a week or so later I was extended an offer.
Why did you choose to go to Marietta College?
Before touring Marietta, I had visited a couple of other campuses. On their tours, I asked the student guides what made them choose to attend the school, and they always said they just felt it, a connection of some sort, when they were touring and visiting themselves. I thought that was rather corny and a less than ideal way to choose a college. I thought that until I stepped onto campus at Marietta and I quickly understood what those other students had been trying to express.
Marietta had a program of study that interested me, and the chance to be a part of the McDonough Leadership program was a big draw for me, but it was the total package, that included the beautiful campus, the warm and friendly people all throughout it, and the wonderful town its situated right in the middle of, that made attending Marietta a no-brainer for me.
How did your Marietta College experience help play a role in what you're doing today?
Well, I very well probably wouldn't have become employed so quickly after graduation and at such a great company if it weren't for the friendships and relationships I was able to foster while at Marietta.
Though I had no prior agency experience before this job, I was able to articulate how my amazing internship opportunities, experiences through McDonough and my liberal arts education have helped to shape me as a young professional and made me suitably prepared to take on the role I was applying for at Adcom.
Who was your favorite professor at Marietta and why?
That's such a hard question. One thing I loved was that it was always so apparent that all of my professors were excited about the content they were teaching and were avid learners themselves.
My advisor and professor Lori Smith, Dr. Gama Perucci and Dr. Robert McManus, and professor Sara Rosenstock were all such great resources to me as sources of guidance and supporters and developers of my personal and professional growth. I count myself grateful that I know I can continue to reach out to them even now that I've graduated and they'll still be there to support and assist me.
What do you like most about being a Project Coordinator?
I realized in high school that I'd never be happy in an overtly stuffy and corporate business setting. Instead, I get to spend my days with super intelligent and creative people who come up with solutions that help businesses and companies better connect with people. No matter whether it's through a poster or a commercial, we get to be storytellers, and those stories we tell and jobs we do continue to change from day to day, so I never feel like my work is monotonous.
Best piece of advice for future students?
Take advantage of the resources across campus — they're there for your benefit. That includes the Career Center, the Office of Education Abroad, and all of your professors' offices during office hours.
Jump into life on campus once you get here in the fall. Sign up to receive emails from all of the organizations you think you have even the slightest interest in being a part of at Marietta. You can always scale back and stop receiving those emails once you figure out what really interests you. And if you don't find what you're looking for, start it up yourself.
Send handwritten cards after an interview or important meeting or just when you fill someone deserves one. (This really does make a difference!)
Sit in the Adirondack chairs around campus on as many nice days as you can.
What is your ultimate long-term goal?
Settling into life in Cleveland and realizing I'll be up here for more than just a summer, I'm excited to explore what volunteer and young professionals initiate I can become a part of here. Longer-term goals have yet to be fully determined, but I know I will always want to be able to do work that is creative and feel as though I'm an actively involved member of my local community, wherever that may end up being. If I could, I find a way to meld my background in media and journalism with work for social justice and civic issues, I know I'd feel like I hit the jackpot.