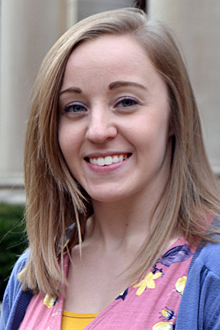 Melanie Boyd '12
Bachelor of Fine Arts in Graphic Design
Employer: West Virginia Executive Magazine
Job title: Graphic Designer
Melanie Boyd is a professional graphic designer who has been working since she graduated from Marietta College in 2012. She recently started a new job at West Virginia Executive Magazine and has been working to improve her skills in website design by attending WordCamp.
Before her work at the magazine, Melanie earned some awards as the graphic designer at the West Virginia Education Association, including the top honor in 2015 for the Best Special Publication.
She currently resides in Scott Depot, West Virginia with her boyfriend Bobby Lemasters '05, and she enjoys personal fitness — most notably participating in several 5K races around West Virginia.
Can you tell us how you arrived at your current job with West Virginia Executive Magazine?
I had been working as the graphic designer for the West Virginia Education Association (WVEA) for more than three years. During my time at the WVEA, I was given the opportunity to design a special campaign magazine for competitive teacher salaries in West Virginia. The piece made for a great addition to my portfolio and helped me stand out from other applicants when interviewing for the position with West Virginia Executive magazine.
Why did you choose to go to Marietta College?
I chose Marietta College for a few reasons. The design program's small class sizes appealed to me because I felt I would benefit from receiving closer attention than students would receive in a large class. The proximity to my home — Marietta only being a little over an hour away — was a plus for me. Also, I immediately fell in love with the campus itself on my first visit.
How did your Marietta College experience help play a role in what you're doing today?
Although I continue to develop new skills, I use the design training that I received at Marietta every day in my work. My professors helped me to develop a critical eye for design and the ability to grow from constructive feedback.
Who was your favorite professor at Marietta and why?
Professor Sara Alway-Rosenstock was my favorite professor at Marietta. The project assignments in her graphic design classes were both fun and practical. I feel as though she helped us explore different directions in which we may want to take our degree.
What do you like most about being a graphic designer?
While there are rules and guidelines, there are no right answers. My position as a graphic designer lets me be creative every day, and every day is different. I enjoy the fast-paced environment of designing for a magazine and love seeing my work in print.
Best piece of advice for future students?
Be persistent. Some grads might walk right into their dream job, but a lot of us do not. Continue to apply, continue to learn and always make the most of the opportunities you are given.
What is your ultimate long-term goal?
My career goal was to become a successful graphic designer doing work that I sincerely enjoy. As I have reached that point in my career, I now strive to learn and grow as much as possible. I am still discovering different types of design that interest me, and the type of position I desire could likely change in the future.