From 'Hamlet' to 'Pullman Car Hiawatha,' actors to perform all over campus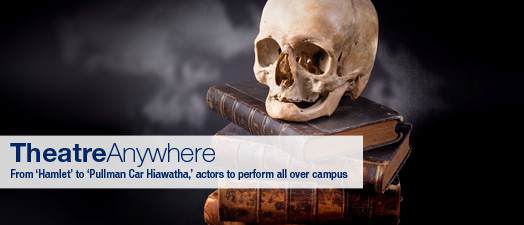 In Act I, Scene V of Shakespeare's Hamlet, the ghost of Hamlet's father appears to him and proclaims, "I could a tale unfold," revealing the truth of his death and thus igniting the tragedy of the play's title character.

This scene demonstrates the power of storytelling, and this year, Marietta College's Theatre Department is hoping to do the same with a complete reinvention of its typical productions. Jeff Cordell, Director of the Theatre Department, reveals that this year will feature site specific performances, moving the plays out of Hermann Fine Arts Center and into new, original spaces.
"We're hoping to engage the community, both campus and surrounding area, with these environmental productions," Cordell says. "They are an exciting variation on theatre without breaking the integrity of the texts."
The season will unfold at 8 p.m., Friday, Oct. 19, with a production of Hamlet, directed by Assistant Professor Andy Felt. The play focuses on a young prince named Hamlet, who seeks revenge against his father's murderer and finds insanity along the way. 
This classic provides ample opportunity to play with staging, as most of Shakespeare's works were intended for outdoor theatre without walls or furniture.  Marietta's Hamlet hopes to take advantage of this intention, utilizing the green space between Andrews and Irvine on campus for both rehearsals and the final performances. The production will also use the Great Room inside Andrews Hall.
"Theatre isn't about being quiet in a dark room. We want to prove this year that theatre can happen anywhere, and site specific performances provide different ways to access our craft," Cordell says.
Theatre major Keith Foster '14 (Stow, Ohio) will star as Hamlet in the production and is eager to begin this new season with a dramatic performance.
"Specific theatre spaces oftentimes have limiting, uptight stigmas connected to them, and while they are almost always appropriate for the stiffly formed commercialized theatre, they fail to facilitate any vital and liberating communion," Foster says. "It's a new frontier. It's one more thing we haven't tried that challenges us to conceive of our art and craft in a new way."
More so, opening night of Marietta College's Hamlet will premiere during the Ohio Valley Shakespeare Conference, which will be hosted on campus this year. The Theatre Department is bringing in alumni who have worked with Hamlet in some facet to discuss the importance of theatrical interpretation.
Hamlet will be performed at 8 p.m. on Oct. 19, 20, 26 and 27; and at 7 p.m. on Oct. 21 and 28.
The seventh annual New-Plays-in-One-Day Festival will take place at 8 p.m. Nov. 10.
An adult holiday double-bill of Thornton Wilder's "The Long Christmas Dinner" and Jeff Goode's "The Eight: Reindeer Monologues" is set to conclude the fall season. The two open at 8 p.m. Nov. 30 in Hermann, with additional performances at 2 and 8 p.m. on Dec. 1 and at 2 p.m. on Dec. 2.
"The Long Christmas Dinner" focuses on one dinner with one family over the course of 90 years through a lens of historical change. Directed by Stephen Brakey '13 (Shaker Heights, Ohio), this is one of two Wilder productions the Theatre Department will be performing. 
"The Eight" is an adult-humored series of monologues from Santa's reindeer. Their anecdotes are not for kids, as they cover a slew of scandals that have happened in the North Pole workplace. Katy Fattaleh '13 (Dublin, Ohio) will direct this stimulating yet comedic social commentary piece.
The spring semester kicks off with a studio production of a student-created children's play. The Advanced Acting class, comprised of juniors and seniors, will work throughout the fall semester to craft an original work that will be taken on tour beginning at the end of January. The plays will be performed first in Hermann at 8 p.m. Jan. 18, 9 p.m. Jan. 19, and 2 p.m. Jan. 20 before they tour to local schools.
Theatre major Nathan Bradley '13 (Sandyville, W.Va.) is excited for both the opportunity to tour and perform in site-specific locations.
"I am personally very excited for a new challenge to tackle. I am also excited to spread what we do to the rest of the campus in order to further the understanding of our craft," Bradley says. "This change in procedure and production space allows for a great learning experience for the department in an area of theatre that is quite popular at the moment."
In February, the department presents Mary Zimmerman's The Arabian Nights, a contemporary take on the classic Middle Eastern tale about a fated bride who wards off her wedding for 1,000 nights by telling her groom stories. Cordell, who serves as director for this production, says it was chosen for its positive display of storytelling, echoing Hamlet. The Arabian Nights opens at 8 p.m. on Feb. 22, with other showings at 8 p.m. Feb. 23, 2 p.m. Feb. 24, 2 and 8 p.m. March 1 and 2 p.m. on March 3.
The 2012-13 theatre season closes its curtains with another double-bill of site specific, student directed plays in April. Thornton Wilder's "Pullman Car Hiawatha" explores the connections between ordinary people on a train and the greater world around them, and will be directed by Foster. Bradley is set to direct Lady Augusta Gregory's "The Rising of the Moon," a play about two men who find shared identities in the face of rebellion and shifting loyalties. The locations of both will be announced closer to their showing.
While the organic environments of this season's productions allow for unique interpretations of the texts, Cordell encourages theatregoers to be flexible and understanding with venue announcements and changes. These new stages are meant to enhance the experience, not hinder it, and for this, Cordell is excited.
"Not many small colleges can put on what we're doing, and that is a testament to us," he says. "We are bringing fine arts and humanities to life for the community and starting a new conversation about why we tell stories and why we do theatre."
Ticket prices are as follows: Mainstage Plays ($10 for adults, $9 for seniors, $8 for students); and Studio Series (86 for adults, $7 for seniors, $6 for students). Festivals are free. Marietta College students and employees can watch all productions free of charge.
Reserved tickets are available for Mainstage and Studio Series performances by leaving a voicemail at the box office: (740) 376-4678. Payment is not required to reserve tickets. Reserved tickets may be picked up and paid for at the box office beginning approximately one hour before the performance. Reserved tickets must be claimed no less than 10 minutes before the performance. At that time, any unclaimed tickets will be released. Those without reserved tickets may purchase remaining tickets from the box office about an hour before the performance.
 
There is no reserved seating for festivals. Seats are available on a first-come, first-served basis roughly 30 minutes before each performance.