176th Commencement features large graduating class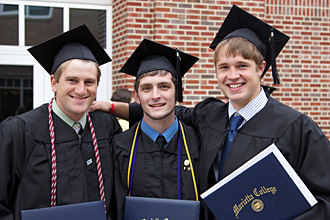 President Joseph Bruno told the Class of 2013 that his first year at Marietta College has gone by way too fast, but their accomplishments have made him proud.
"In just the past year you have dominated forensic and debate events, won a business case study competition, given numerous wonderful performances in the orchestra, the choir, and on the stage, won tournament basketball games in triple overtime, presented scholarly research talks at professional meetings in your major discipline, created beautiful and thought-provoking works of art, and, just a few weeks ago, presented capstone and thesis projects," he said to the more than 300 graduates at the 176th Commencement in the Dyson Baudo Recreation Center.
"The latter, in particular, demonstrate with absolute clarity your ability to take all you've learned and apply it to a new and challenging problem," President Bruno said. "This is what will make you successful, and prove that my confidence in you was well-placed. So my charge is a simple one; keep doing what you've been doing for the past four years. There is really no need for more, and I know you won't settle for less."
President Bruno and Interim Provost Dr. Gama Perruci handed out the diplomas to the graduates on a sunny, but chilly 60-degree day.
Lauren Currie '13 (Lockport, N.Y.) earned the top prize in the highly sought after Jewett Oration for her speech "3.2.1…" Connor Walters '13 (Bay Village, Ohio) finished second with "Our Time in T-shirts."
Currie told the crowd that Marietta College's liberal arts base is here to stay and it has prepared the graduates with the tools to succeed in life.
"The most inspiring periods of growth I have experienced have been at times where I was the most uncomfortable, such as studying abroad or hanging on a high ropes course. But within similar moments of fear and apprehension, by taking the lunge forward we are able to learn so much about ourselves and discover more meaningfully, where we want to go next," she said. "Marietta College has challenged us to rise to the occasion and succeed amidst many of these moments of discomfort. The unknown is exciting. It is going to take us all over the world, to careers we never would have imagined, and to people who will change our lives."
Walters' speech took a more humorous approach as he related his large collection of T-shirts to experiences and memories from his four years at Marietta.
"When I woke up this morning, I had to decide which one I would wear today underneath my cap and gown. I elected for the first shirt that I purchased as a student: a navy blue one that says 'Pio Army,' " he said. "It defines the hard work that we have put into our time here, and the leadership, expertise and care of those faculty and staff that brought us here. It displays the camaraderie of our class, and for me, my incredible pride to call myself a member of this unit."
The College also recognized two of its top graduates, including valedictorian Ben Reese '13 (Marietta, Ohio), who earned a Bachelor of Arts degree in Political Science and another one in Economics; and salutatorian David Olach '13 (Avon, Ohio), who earned a Bachelor of Science in Petroleum Engineering.
The men and women who received their degrees Sunday join the more than 25,000 living Marietta College alumni/ae as members of The Long Blue Line. Among the 400-plus graduates were 18 graduate students, including Bill Vernon '13 (Marietta, Ohio) — the final person to earn the Master of Arts in Liberal Learning degree.
Delivering the Commencement address was Carl Bernstein, the Pulitzer-Prize winning reporter and author. His speech was titled "Upon A Great Transition: The Greatest Opportunity."
Arielle Jennings, Director of Civic Engagement, was awarded the Outstanding Faculty Award.
Through the Senior Challenge, the Class of 2013 made a donation of $3,502 to The Marietta Fund.
Related Links
+ Mortar board messages
+ Best Wishes to The Long Blue Line
+ Jewett Oration: Lauren Currie
+ Jewett Oration: Connor Walters
+ Keynote Address: Carl Bernstein
+ President Bruno's Charge to Graduates
+ Commencement Program
+ Photos of Commencement
+ Photos of Strawberries & Creme