176th Commencement: President Bruno's charge to the graduates
CHARGE TO THE CLASS OF 2013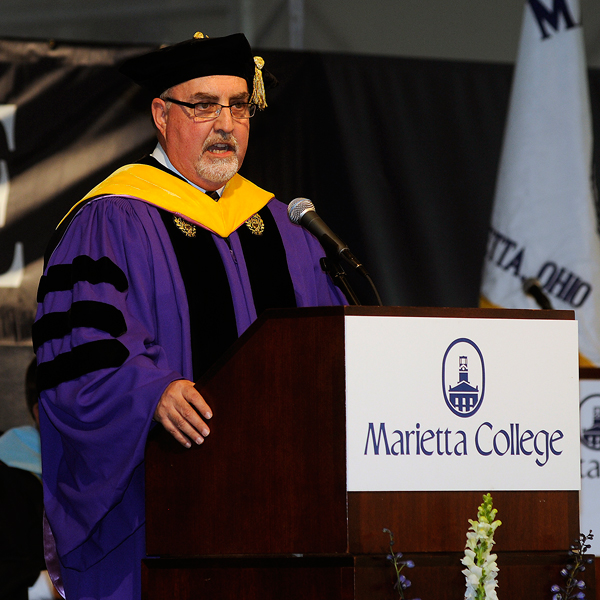 Thank you, Mr. Bernstein, for being here today and for sharing such wise words with us.  We thank you, too, for the leadership and courage you have shown during your years as a writer and keeper of the public conscience.  The notion of a free and uncensored press puts a great burden of responsibility on practitioners, who must serve the public's right to know with fairness, integrity, and accuracy.  We admire your commitment to these high and noble ideals.
And warmest congratulations to you, the members of the great class of 2013.  You have reached a true milestone in your lives, one that allows us to certify that you are now educated.  I'll come back to that point in a moment.  But before I do, let's bask in the glow of your impending certification, and recognize those to whom we all owe a great debt of gratitude.  Yes, talented though you are, each of you has someone who has helped you reach this point.  And some of you needed, or were clever enough to enlist, more help than others.  Whatever your personal situation, I hope you will take the time today, before you leave, to thank your families for their wonderful support and to thank those faculty members who have pushed you to reach this milestone and accomplish more than you thought you could.  Only then can you begin to revel in your own success and contributions.
My actual responsibility today is to deliver the charge to you, the graduates.  As I thought about that, I realized that I have a few.
First, we live in a nation in which 1% of our fellow citizens control 30% of the financial and property assets in the nation.  Now I know that some of you are actively working on your own plan to join the 1%, and I wish you success with that.  But I am reminded of the philosophy of one of the great leaders of the 20th century, Sir Winston Churchill, who once said "We make a living by what we get, but we make a life by what we give."  And so I charge you with this: by all means be as successful in life as you can be, but do remember your responsibility to others.  Be successful, but be grateful to those who have helped you and be generous to those who haven't been as fortunate.
So how will you achieve success and the goals you have for yourselves?  I can't predict the details, the exact challenges you will surmount and the opportunities you will seize.  But I do firmly believe that success will come.  In just the past year you have dominated forensic and debate events, won a business case study competition, served this campus and our local and national communities with distinction, given numerous wonderful performances in the orchestra, the choir, and in the theater, won tournament basketball games in triple overtime, presented scholarly research talks at professional meetings in your major discipline, created beautiful and thought-provoking works of art, and, just a few weeks ago, presented thesis and capstone projects.  The latter, in particular, demonstrate with absolute clarity your ability to take all you've learned and apply it to a new and challenging problem.  This is what will make you successful, and prove that our confidence in you is well-placed.  So my second charge is a simple one; keep doing what you've been doing for the past four years.  There is really no need for more, and I know you won't settle for less.
If you'll permit me, I'd like to end on a brief personal note.  It has been a distinct pleasure to meet so many of you during the course of this year.  The 2012-13 academic year has gone by quickly and I am sorry to see such a talented group of students leave our campus, even though I know that is the natural order of things.  I hope you share at least some of that sentiment, and I ask you to remember that education and learning are life-long endeavors.  I turn again to Winston Churchill for a comment; he once said on the subject "Personally, I'm always ready to learn, although I do not always like being taught."  Well, here's the good news.  You have a liberal arts education and are, from this point on, in charge of educating yourself for the rest of your life.  Best of luck to you and your teacher as you go forward, and thank you for all you have brought to Marietta College.