1971 alumna named first Schwartz Leader-in-Residence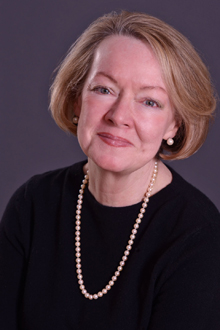 Kathleen Reddy-Smith '71, a retired diplomat with the U.S. Foreign Service, will begin a yearlong project in the fall of 2014 as the first Schwartz Leader-in-Residence (LIR) at Marietta College.
She plans to help students "transit the gap between writing for professors and writing for the professions."
"I am honored to be Marietta's first Schwartz Leader-in-Residence and to team-teach with Dr. Mark Schaefer, the chair of Marietta's distinguished Political Science Department," Reddy-Smith said. "The LIR program honors not only Dr. Steven Schwartz, but other giants of the College's recent history — Dr. William Hartel and Professor Robert Deets — who taught me and so many others critical thinking in such imaginative ways."
Reddy-Smith said her work will build on the students' experiences by teaching them how to make the leap from thinking and writing for a professor to thinking and writing for their ultimate profession.
She will begin her LIR service teaching strategic writing and analysis in Political Science 325 (Middle East Politics). In the spring of 2015, LIR students will analyze and make policy recommendations on countries outside of the Middle East. The project culminates with presentations to region-specific policy experts in Washington, D.C.
"While I will use foreign affairs, my area of expertise, as the metaphor, this approach can be used by all professionals to lead organizations forward," she said.
Schaefer, who chairs Marietta's Political Science Department, is excited to be part of the launch of the LIR in the fall.
"We are especially pleased to be able to welcome Kathleen Reddy-Smith back to campus," he said. "Her LIR project will add immensely to the policy-making and critical-thinking focus of our department, while allowing our students to gain invaluable real-world experiences."
Dr. Gama Perruci, Dean of the McDonough, has some experience with these types of programs. He has been running the successful Fitzgerald Executive-in-Residence for nearly a decade and is confident that Reddy-Smith will set an outstanding example for future LIRs.
"She brings an incredible depth of experience that will greatly enhance our students' knowledge of international affairs," he said. "I'm also very pleased with the collaboration between McDonough Center and the Political Science Department. It really fits with the spirit of the LIR program — to infuse leadership across the Marietta College campus."
Paul and Barbara Perry Fitzgerald '73 made an initial $100,000 donation to fund both the Fitzgerald Executive-in-Residence (EIR) as well as the LIR. They also challenged Marietta alumni and donors to match their gift. An example of how the funding will benefit the program is by covering the travel expenses of the students when they travel to D.C. to make presentations.
A major reason for their support is to broaden the exposure Marietta students have to individuals with varied experiences and careers. She also gained first-hand familiarity with the program when she served as an EIR  during the 2007-08 academic year.
"Whether that is national or international, their professional journeys provide opportunity for the students to learn and apply their classroom instruction to practical situations," said Barbara Fitzgerald, who is the current Chair of the Board of Trustees. "Bringing strong leaders to Marietta opens up a world of possibilities that will enable our students to follow a path they might not have considered before. These programs benefit all of the participants and enable a strong connection to be made. I believe strongly that learning happens in many different ways and this is an excellent opportunity for  leaders to pass along those traits and skills that have made them successful and will enable future generations to build upon their accomplishments with what they take away."