19th annual International Week opens March 25 at Marietta College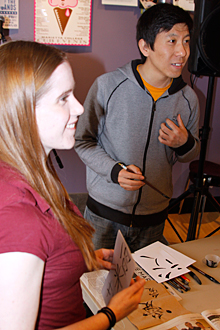 With six days of food, speakers and presentations, Marietta College's 19th annual International Week promises to be one of the best ever.
It all gets started with the weeklong Photo Contest in Thomas Hall. Students and employees are asked to submit photos they have taken in the past year at an international location. Winners will be announced at the end of the week.
"This year, the enhanced International Week will bring to the Mid-Ohio Valley a fun and educational international experience: from student presentations to a faculty workshop, from art exhibition and photos to English tea ceremony and an 'Eastern parade' hat decoration competition, from poetry to dance and music," said Dr. Luding Tong, Director of Asian Studies. "Marietta College faculty, students and staff will have a rich experience in scholarship, discussions of global issues, art, and food from around the world, particularly the countries and regions of China, Hong Kong, Japan, Thailand, Mali, England, the Middle East, Mexico, and Argentina."
Starting from an event organized by a single department, the International Week has grown to become an important venue for international scholarship and cultural experiences for Marietta College community members. Tong said this year, the preparation of the event has seen unprecedented campus-wide enthusiasm and participation from students, faculty, staff and alumni.
"It showcases the flowering of the College's efforts at international outreach," she said.
The Department of Modern Languages founded the International Week event in 1995 and remains the main organizer of all International Week programming. Other sponsors include the Office of Diversity and the Office of Education Abroad.
All events, except the Global Palate, are free and open to the public. The schedule looks like this:
Monday, March 25
Teaching International Students: A Faculty Workshop with Dr. Janie Rees-Miller
Noon-1 p.m.
Worthington Center Conference Room
Global Palate Dinner (followed by Danza Azteca and Ballet Folklórico)
6-7:30 p.m.
Andrews Hall Great Room
Tuesday, March 26
Presentation by Kris Holloway: Experience of Two Years with a Midwife in Mali
7:30 p.m.
Alma McDonough Auditorium
Wednesday, March 27
International Café
10 a.m.-1 p.m.
Upper Gilman
Chinese, French and Spanish Poster Presentations
10 a.m.-1 p.m.
Upper Gilman
Spanish Poetry Reading
10-10:50 a.m.
Upper Gilman
Learning Activity — Learn to write and say your name in Chinese, Japanese or Korean)
11 a.m.
Upper Gilman
Slide Show: Kyoto, Japan
Noon-12:50 p.m.
Upper Gilman
Pizza & Politics
6:30 p.m.
Thomas 124
Thursday, March 28
Modern Languages Honors Award Luncheon
12:15-1:15 p.m.
Upper Gilman
"Happy Together" directed by Kar Wai Wong
7-9 p.m.
Thomas 124
Friday, March 29
Global Gateways Speaker Series
Noon-1 p.m.
Thomas 209
English Tea Ceremony and Hat Decoration
3 p.m.
Thomas 217
Monday April 1
Leadership in Southeast Asia: Student Presentations
3-4 p.m.
McDonough 205
Artist in Action: Calligraphy and Painting by Mao Xuefeng
7-8:30 p.m.
Andrews Hall Great Room