2007 alumnus lands recurring role on NBC hit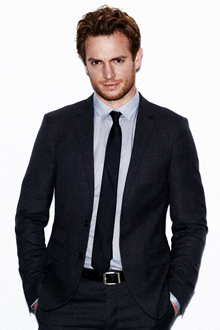 When a few entertainment websites shared the news that Nick Gehlfuss '07 had just landed a recurring role on an established NBC show, word spread across the Marietta College campus fast.
It was mostly employees who wanted to share the good news via Facebook, Twitter and other social media.
"I did hear that people were talking about it and that is very nice," said Nick, via phone from Hollywood. "I'm not very active on social media, but it's wonderful to hear how much everyone was excited by the news."
Nick was also enthusiastic that he is getting a chance to play Dr. Ryan Halstead for six episodes — three on Chicago P.D., two on Chicago Fire and one on Law & Order: SVU.
"Dick Wolf, the producer of the shows, is big on doing crossovers from one show to the other, so this character will get a chance to be seen on all three," Nick said. "(Wolf) has been crossing over stories more than anyone has ever done, which is smart because it ensures an audience for both shows."
Nick has been told there is a chance that his role will be added to a spinoff — Chicago Medical.
"It certainly has the potential to be a game changer, but in this industry you can only get your hopes up so high because the reality is, someone may decide to go another direction," Nick said. "I won't know until June if it's going to happen, but I'm on the roster and I want to keep starting and play as long as I can."
Nick may not be a household name or face yet, but this break isn't his first. After graduating from Marietta with a Bachelor of Fine Arts in Theatre, Nick also earned a graduate degree from the University of Missouri-Kansas City. He has played roles on Army Wives, It's Always Sunny in Philadelphia, Longmire, Murder in the First, Royal Pains and The Newsroom, to name a few.
His most recognizable role is probably as Robbie Pratt during the 2014 season of Showtime's Shameless.
"In this business, you have to be auditioning and I have been doing a lot of that, and for that, I am very pleased," Nick said. "I've also cultivated a lot of relationships with casting directors. Once they know who you are then they become some of your most valuable relationships."
He didn't even have to audition for the role on Chicago P.D. because of his relationships and past work.
"The casting director knew me from previous auditions and he submitted me to the creators of the show," Nick said. "Getting to the point where you don't have to audition, and you're offered the role, is a very rare thing out here."
Nick's former instructor, Jeffrey Cordell, said he is proud of what his former student has accomplished on TV, but it is his work on the stage that should really be lauded. This past summer, Nick starred in Neil LaBute's Reasons to Be Pretty at the Geffen Playhouse.
"He has enjoyed amazing opportunity after amazing opportunity," Cordell said. "He's going to do more television and will likely do more film as well, but getting the role in Neil LaBute's Reasons to be Pretty at the Geffen Playhouse for a one month run is a huge accomplishment. Nick is the type of person who doesn't call to tell you the big news because he doesn't brag about it ... You have to go find Nick when the news breaks. I admire that."   
If you want to find Nick these days all you have to do is go to Chicago. He'll be there until April playing Dr. Ryan Halstead. If six episodes are all he gets, Nick said he's up for the next challenge.
"I'm still auditioning and with this contract I am open to do films, but I don't have anything at this point," he said. "This is my main focus for now and I'm going to give it everything I have."
That attitude does not surprise any of his former Marietta professors, especially Emeritus Professor Steve Rader.
When Rader, a former professor in Marietta's Theatre Department, first met Nick when he was a senior in high school and he said his love of theatre was "profound and his enthusiasm infectious."
"That has not changed in the years that have passed. What has changed is the reason he loves theatre. When Nick arrived in Marietta, he wanted to attract attention and he craved applause more than anything else," Rader said. "He was a performer — and a skillful one — but he was not an actor. Since he figured out that acting is a demanding craft that must be studied for a lifetime and that an actor exists to serve the text rather than the reverse, he has had a laser focus on his goal: to be a working actor who is constantly honing his craft. … Nick's future looks bright because he has done the work that needs to precede success."
Professor Dan Monek, who worked with Nick when he was a member of the Concert Choir, said he was excited by the news and not the least bit surprised.
"It has been a real treat to watch Nick's career move from one success to the next, but certainly not a surprise," Monek said. "During his time at Marietta he brought a great deal of energy, hard work and joy to everything he did. I believe there is no better place to build one's foundation in the arts than at a liberal arts college like Marietta, and Nick is an excellent example of that. I am extremely proud of all he has accomplished."
Nick said he still dabbles in music and enjoys playing his guitar — two things he developed at Marietta College as well. He says he considers his time at Marietta as four years that started the foundation of him becoming an actor and those experiences have shaped his career path.
"I'm still in contact with many of the professors," he said. "Marietta's Theatre Department gives you an opportunity to take so many different classes. Whatever your focus is, by doing all of these different elements — act, direct and design — and having to learn in them and create in them, you build a better understanding of the big picture. I have a deeper appreciation for what everyone is doing on the set of show, and Marietta helped me see that."