2009 alumna hired as Academic Support Coordinator in ARC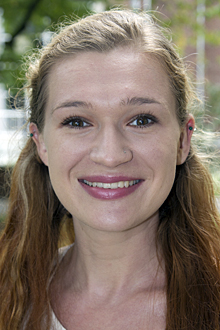 As an undergraduate, Keira Hambrick '09 learned a lot about herself while tutoring fellow classmates.
"I enjoyed working for both the Academic Resource Center and the Writing Center," she said. "Helping other students to understand everything from the Krebs cycle to thesis statements was a great way for me to connect with my peers, and also to enhance my own education. … Working with students and faculty is deeply rewarding, and I am honored that the College has invited me to do the work I love in a community that is so special to me." 
This summer, Hambrick returned to Marietta College as an Academic Support Coordinator.
"We are so fortunate to have Keira joining the ARC staff. New this year, the campus Writing Center is now operating under the ARC," said Amanda Haney-Cech, Director of the ARC. "As the Academic Support Coordinator, Keira is responsible for coordinating all tutoring services, including writing support. As a student at Marietta College, Keira served both as a writing consultant and biology tutor. Having worked in both roles, she has a strong understanding of what the peer tutors need and what the tutoring clients are seeking. She will do a tremendous job developing our tutoring services to meet these needs."
At Marietta, Hambrick earned a Bachelor of Arts in English Literature & Creative Writing, as well as a Bachelor of Science in Biology. She went on to earn a Master of Arts in Literature & Environmental Studies from the University of Nevada-Reno in 2011. While in Nevada, she wrote grant proposals for local non-profit organizations, mentored students to staff the new University Writing Center at Nevada-Reno, and provided writing and editing consultations to students, faculty, and area businesses.
"In many ways, this is my dream job," she said. "As a student worker at Marietta, I developed meaningful connections with many of the staff and faculty across campus, and I am thrilled now as a professional to have the opportunity to collaborate with the community to help our students contribute to a strong, Long Blue Line."