33rd Rickey Scholar adjusts to college life, college physics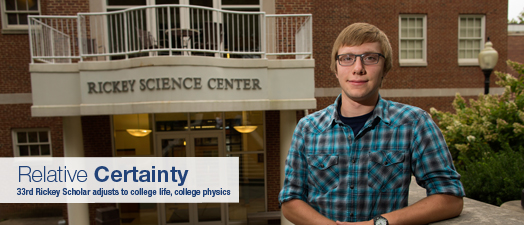 Every student goes through some sort of adjustment period when they arrive on campus, and Devon Vogelsang '17 (Tiltonsville, Ohio) was no different.
The 33rd Rickey Scholar, Vogelsang is majoring in Physics and the transition from high school to Marietta College took him a little longer than he expected.
"At first, the adjustment was difficult for me. I was shocked by the increase in the amount of work that needed done," Devon says. "After about two weeks, I started to adjust well. I feel confident about my work here. I'm enjoying college life!"
The Rickey Scholarship is a merit-based $18,000 per year scholarship, renewable for up to four years. David M. Rickey '78 and the J&D Family Foundation established the Rickey Scholarships in Physics in 2001.
 
The scholarships are competitive and are available to full-time students who intend to major in Physics with the goal of continuing on to graduate school and a scientific or technical career.
"I'm very honored to have been chosen as the recipient for the Rickey Scholarship," Devon says. "My family and I are very grateful for the opportunity. There is a very noticeable amount of money we are saving thanks to the scholarship."
Dr. Cavendish McKay, Chair of the Physics Department, says the expectation for a Rickey Scholar is always high.
"Devon is doing well so far. He's a thoughtful student and a diligent worker," McKay says. "From the departmental perspective, Rickey Scholars serve to anchor the population of a particular class, and provide an example of leadership for them, and Devon is doing both for this year's set of freshman physics majors. We're glad to have him."
Devon says the class and lab settings at Marietta have been a big plus in his adapting to his new environment.
"There are only about 15 people. This provides for a great learning experience. My professor knows my classmates and me by name," he says. "It's very easy to develop relationships with the professors in such a close learning environment. The technology we use in physics lab is also something I enjoy. The instruments we use give us real time data the moment something is happening. It gives for a very hands-on learning experience."
The Buckeye Local High School graduate says he developed an interest in physics from the very first time he took the course.
"I found the subject very interesting. I thought it was so fascinating to figure out how and why things work the way they do," Devon says. "The more I learned about physics, the more I wanted to know."