89th performance of Messiah scheduled for Sunday, Dec. 6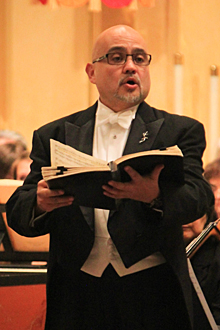 Marietta College's Oratorio Chorus, Women's Choir and Orchestra are preparing for the 89th performance of George Frideric Handel's Messiah, which is scheduled for 7 p.m., Sunday, Dec. 6.
The performance is free and open to the public at the Basilica of St. Mary of the Assumption. Donations will be accepted.
The Oratorio Chorus, a group that consists of a mixture of community members and students, will be entering its 162nd performance. Marietta College's performance of Messiah started in the fall of 1926 when music director Gerald Hamilton arrived singing the Christmas portion of the performance. Since then the Messiah has grown into a tradition giving community members and students a chance to showcase their talents and their love for music.
The event is sponsored by Marietta College's Department of Music and it involves a professional orchestra, five soloists — Jean Couchie Burnquist (soprano), Elle Sage (soprano), Amy Yekel (alto), Ray Bauwens (tenor) and Douglas Anderson (bass).
Dr. Daniel Monek, Professor of Music at Marietta College, is the conductor. Dr. H.G. Young, Professor of Music at West Virginia University-Parkersburg, is directing the Oratorio Chorus. Pamela McClain, Choir Director at Parkersburg High School, is directing the Women's Choir.