Advertising students attend AAF Professional Development Luncheon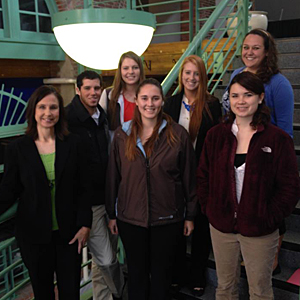 Six Marietta College students, along with instructor Lori Smith, recently attended the American Advertising Federation's Professional Development Luncheon in Cleveland.
The students — Tyler Baltzell '15 (Dayton, Ohio), Lauren Bush '15 (Kent, Ohio), Lexi Callaway '16 (Portage, Mich.), Mary Ervin '16 (Lewis Center, Ohio), Margaret Price '16 (Hilliard, Ohio) and Alexandra Seals '16 (Marysville, Ind.) — got to hear from guest speaker David Mogensen, senior product marketing manager for Google and YouTube.
"Through the American Advertising Federation/Cleveland, our students had a chance to see a guest speaker presentation from a product marketing manager for Google and YouTube," Smith said. "This provided them with a new way to learn how a leading Internet company encourages engagement with their users. It also gave them a chance to network with many advertising professionals."