All Scholars Day continues to improve each year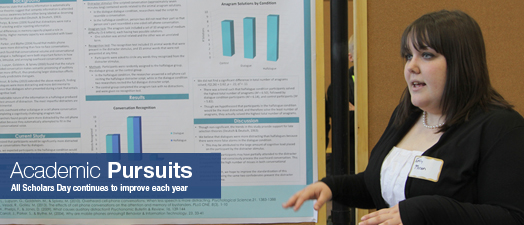 In a nearly vacant Rickey 166, Tiffany New '14 (Carroll, Ohio) was practicing her presentation one last time.
Offering advice and firing off questions was fellow Biochemistry major Mattie Stowell '14 (Ashtabula, Ohio), who would make her presentation 30 minutes later.
"I feel confident, but I am definitely nervous," says New, whose presentation is entitled Analyzing Ventriculoperitoneal: Shunting Worth the Risk? "It's also satisfying because we have been working on capstone for the past year and half."
New and Stowell were putting the final touches on their presentations for the fourth annual All Scholars Day, which was conducted all day (April 16) on campus. No regularly scheduled classes were held so students could share undergraduate research and projects, while others could attend to ask questions and learn about their work.
Dr. Ali Doerflinger, who coordinates All Scholars Day, was traversing across campus throughout day keeping tabs on presentations and making sure everything was running smoothly.
"This event has really become a highlight for our seniors to show off how much they have learned and grown as scholars," Doerflinger says. "It's also a day for Marietta College to show how much it values the undergraduate research experience and the education we provide. Giving students an opportunity to share this is extremely valuable."
She says the event has tripled since it started in 2011.
English major Kathryn Hanssen '14 (Greenfield, Ind.) gave a poster presentation on her research about Picturing Slavery: The Use of Visual Rhetoric in Uncle Tom's Cabin and Other Pro- and Anti-Slavery Texts.
"I have been to all four All Scholars Days and it is interesting to see how it has evolved," Hanssen says. "There is just something about having a forum to share your hard work that truly validates it. It's nerve-wracking, but also very satisfying to do this today."
Dr. Janet Bland, McCoy Associate Professor of English, enjoyed walking through the Dyson Baudo Recreation Center looking over the posters, but what she likes most about the day is the opportunity to get outside of her area and see what is going on in other buildings on campus.
"I like seeing the things that have nothing to do with my department," she says. "I ask questions, not to make the presenter uncomfortable, but because I am engaged in their topic and their presentation. It can be a little intimidating, but it's a good thing. Having a day like this is what you should expect in college. It shows Marietta College is serious about the academic pursuit and undergraduate research, and I love everything about this day and what it says about us."
Like many professors, Bland gave an assignment to the students in her class that involved the activities of Wednesday.
"They have to pick a presentation that interests them and then write about it," she says. "This exposes them to what will be expected of them in the next year or two, but it also gives them a chance to listen and learn about something outside of their area and then put it into words on the page."
Only minutes from giving her presentation on Effects of Berberine on Melanoma Cell Adhesion and Migration, Stowell was starting to relax just a bit.