All Scholars Day returns with bigger, stronger program on April 17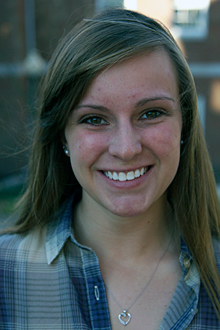 Take a quick glimpse at the research project that Chyrsten Regelski '13 (Greenville, Ohio) conducted over the past year and half and you can see why Marietta College's All Scholars Day has become a highly anticipated event on campus.
The third annual All Scholars Day is scheduled for April 17 and hundreds of students are expected to discuss and share their research with the campus community. All classes that meet more than once a week are canceled. Classes that only take place on Wednesdays are not canceled unless the professor chooses to do so.
Dr. Ali Doerflinger, who organizes All Scholars Day, is excited to share such a full program and can't wait to see the work of the students.
"All Scholars Day is really living up to the promise of being a campus-wide, student-centered academic conference. It's amazing that we have coordinated so many departments and programs across campus to participate in this year's event," she said. "From Biology capstone presentations to Creative Processes Round Table; from Honors thesis defenses to Study Abroad shared experiences, we will have on display a full range of what Marietta College has to offer its students."
Regelski performed a study looking at whether using Kinesio-tape on the tibialis posterior would decrease excessive pronation. She used Dartfish 2D software to perform a video analysis while her participants walked on a treadmill. 
Before ASD, Regelski presented her research at the Mid-Atlantic Undergraduate Research Conference on March 22 at West Virginia Wesleyan College.
"The conference was a great experience that allowed me to share my honors thesis that I have worked so hard on for the past year and a half with other students from West Virginia Wesleyan," said the Athletic Training major. "I really enjoyed the experience and learned a lot from participating in the conference."
Regelski's project has also been submitted to the National Athletic Trainer's Association Annual Student Writing Contest, and has been submitted as an abstract for a chance to present her poster at the Ohio Athletic Trainer's Association Annual Meeting.
"Chyrsten has been working on this project for three semesters and recruited 50 subjects to take part," said Kemery Sigmund, Assistant Professor of Athletic Training. "She has worked tirelessly in an effort to better prepare herself for grad school in the fall at Old Dominion University." 
The College will also host the annual Spring Honors Convocation as part of ASD. During the Convocation, Marietta recognizes the accomplishments of more than 100 students with approximately 60 awards and scholarships.
Kathleen Reddy-Smith '71, a member of the College's Hall of Honor and a former employee for the U.S. Department of State, will deliver the keynote address. Reddy-Smith retired in 2009 after 29 years.
Her overseas experience began in Islamabad, Pakistan, where she served from 1982 to 1984 as the trade and commercial officer at the U.S. embassy. She was a Diplomat-in-Residence at Bridgewater (Mass.) State University in the fall.