Alumna to be recognized for her dedication to hearing loss community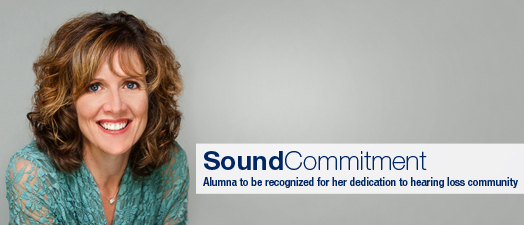 Barbara Garneau Kelley '81 began volunteering for the Hearing Loss Association of America in 1988 after she moved to the Washington, D.C., area in search of a job.
Her cousin, who was hard of hearing, had introduced her to the organization, which provides information, education, advocacy and support to people who have hearing loss. One day, she was approached by the group's founder, Rocky Stone — a retired CIA operative with hearing loss — about taking on more responsibility with the publication Hearing Loss Journal, which was the predecessor to Hearing Loss Magazine.
"The conversation went like this: 'Barbara, I've looked at your background, would you like to be the editor of the Journal?' No way, I replied. I know nothing about publishing a magazine. His response as he stared me down in order to read my lips, 'Can you learn?' … I was speechless but knew I could learn. And, learn I did. With some professional publishing courses, self study and a lot of trial and error, I learned. Today, Hearing Loss Magazine is a respected and credible resource for not only consumers but professionals in the hearing health care field."
Kelley, who earned a degree in English Literature from Marietta, still serves as the Deputy Executive Director of the Hearing Loss Association of America and Editor-in-Chief  for the magazine, which recently earned the Hermes Creative Award.
During Homecoming 2012, the Marietta College Alumni Association will recognize her incredible work on behalf of people with hearing loss by honoring her with the Distinguished Alumna Award.
Homecoming Weekend kicks off on Friday, Oct. 12, with registration beginning at 10 a.m. At 3 p.m. Friday, the campus community and Homecoming attendees are invited to witness the installment of Marietta College's 18th President, Dr. Joseph W. Bruno. The inauguration will be followed by a special reception from 5 to 6:30 p.m. in the Hermann Fine Arts Center.
This year, the MCAA Award Ceremony will take place Saturday, Oct. 13, during Marietta on the Mall. The event begins at 10 a.m. and lasts until 11:45 a.m. when the Homecoming Parade begins.
Kelley will be joined by fellow special Pioneers, Carte Goodwin '96 (Distinguished Alumnus), Heather Boomer '09 (Outstanding Young Alumna), Seth Wolfson '05 (Outstanding Young Alumnus) and Katy Smithberger (MCAA Service Award). In addition, legendary Marietta College baseball coach, the late Don Schaly '59, will be added to the Hall of Honor.
"This is a special Homecoming Weekend at Marietta College because not only will we be celebrating the inauguration of Dr. Bruno on Friday, but will also be combining our MCAA Awards program with our spring sports champions recognition during Marietta on The Mall on Saturday for what promises to be a very exciting and memorable schedule of events," says Hub Burton, interim Vice President for Advancement.
Kelley will be joined at the awards ceremony by her husband, William, their son, Patrick, her sister and brother-in-law, Susan and Jim McKinney, and friends Margaret Barker '81 and Rick Eckstein '82.
There are 36 million people with hearing loss in the United States and Kelley takes pride in how much the association has impacted the lives of so many people.
"The most rewarding part of my job is hearing from people who read the magazine," Kelley says. "I have heard things like, 'if it weren't for the magazine, I wouldn't have been able to go on living.' Or, 'you saved my life, I thought I was alone and was the only one with a hearing loss until now.' … I've had the privilege of recording history in the pages of the magazine. Since 1988, HLAA has been involved with every major piece of legislation involving people with disabilities, including the landmark Americans with Disabilities Act of 1990, and most recently the 21st Century Communications Video Accessibility Act of 2010."
Kelley grew up in western Pennsylvania but moved to south Florida during high school. She knew she wanted to attend college in the Midwest so when her guidance counselor, James Byer '66, thought his alma mater might be something that suited her needs, she decided to schedule a visit.
"He told me he was on the rowing team and I didn't' even know what crew was," Kelley says. "I scheduled a visit and felt at home with the small college town atmosphere and the personal attention. There was no doubt where I wanted to go. For someone who didn't even know what crew was, I ended up on the women's rowing team."
Her love of literature led her to major in English. Her hard work in her major paid off because she garnered the Merrill Reeves Patterson Award for English Literature for her Shakespeare studies. Though she didn't know how a degree in English would help her find a job, she received some advice during her senior year from her advisor, Professor Steven Blume. He suggested that Kelley attend a publishing school, particularly one in Denver.
"I applied and was accepted but I didn't go because circumstances took me back home to Florida," Kelley says. "What did he see that I was not seeing at the time? I'll never know but my career path eventually took me down the publishing road — in a big way. Coming from a liberal arts education was part of the reason I could say 'yes' to the future when HLAA Founder Rocky Stone asked me to be the editor of a national publication. I had studied a wide range of subjects at Marietta College and I knew I could learn anything if I put my mind to it."