Alumna designs Military Appreciation hockey jersey

Anyone who befriended Christina Moritz '08 as an undergrad at Marietta College knows she had an affinity for those who served in the U.S. Armed Forces.
So to see her making national news for her design work on the Chicago Wolves' Military Appreciation jersey seems rather fitting.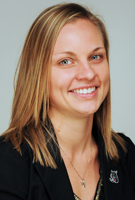 "My roommate, Jennifer Bachelder '09, was the first one to tell me that it was on Yahoo! Sports," she said. "It's pretty awesome to see."
The American Hockey League's Chicago Wolves, the Vancouver Canucks' affiliate, produced a video of screen captures by Moritz as she designed the jersey in August. That video, along with a short story, made its way to the hockey blog Puck Daddy on Tuesday, Jan. 15.
The jerseys will be worn Jan. 16, 18 and 19 at Allstate Arena in the Chicago suburb of Rosemont, Ill. Moritz was the creative services manager with the Wolves until the end of September.
According to Lindsey Willhite, the Wolves' Director of Public Relations, to make the jerseys look as realistic as possible, Moritz borrowed the Army Combat Uniform worn by Capt. Brian Harris while serving with the 1st Cavalry Division in Afghanistan.
"I was supposed to start the design process in May, but it was hard for me to get started on this one because I had a friend (Sgt. Dan Patron) who died in Afghanistan and I wanted to commemorate him and everyone who has served" said Moritz, 26.
But with a deadline looming, Moritz went to work and she's pleased with the jersey.
"The end result is really cool, but there are always challenges when you do something like this," Moritz said. "My initial intention was to have more of the jersey embroidered, but a lot of it had to be sublimated. You'll also notice that we put the player's last name on the front like it would be in the military. Well, those had to be produced here while the jersey was produced in Canada. Getting that to match up just right was tough."
Other highlights of the jersey are:
• Four service stripes on each sleeve, which in military terms indicate four years of service, but for the Wolves represent their four AHL championships.
• Dimensions of the shoulder patches are the same as they are in the military. The patches include the American flag, service patch and a POW/MIA patch.
• Continuing a Wolves tradition of incorporating the date somewhere on the specialty jersey, on the left cuff in military time is the date of each game.
"It is very cool to see Christina's work highlighted in this way," said Marietta College Art Director Ryan Zundell '93. "She did tremendous work for us as a student and I know all the hard work she did with the Wolves and it is nice to see it recognized nationally like this."
Moritz is now a project manager for Doejo, a Chicago design firm. Leaving the Wolves after 4 ½ years was not easy, but Moritz said is happy with the direction of her career.
"There is just something so neat about working for a sports team. It was something I always wanted to do and when I was at Marietta I told everyone it was what I was going to do," she said. "Two weeks after I graduated in 2008 I packed my computer and my clothes and moved out here. To see how I've grown and the network I've developed is just crazy to me."
Growing up in Ohio and attending a small college, her friends in Chicago were frequently asking Moritz if she was "born in a barn." Now she considers the Windy City her home.
"It feels more like home than it used to. At this point I can't imagine myself anywhere else," she said. "The diversity here continually opens my eyes."
Moritz graduated with a Bachelor of Arts in Graphic Design and was an intern in College Relations for two years. She believes her liberal arts education and the relationships she developed with former faculty member Tina Ullman '93 and Zundell played a critical role in her success today.
"I knew I was going to get a big school education at a small school because of Tina's background as a teacher," Moritz said. "Then the experience of working in College Relations helped me understand the workload and how to deal with the clients. That set me up 110 percent for what I was doing with the Wolves. The nurturing environment at Marietta College is such an important component of what makes Marietta College so special."