Alumni Welcome: Jennifer Offenberger '86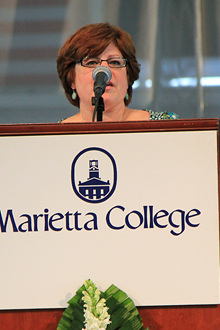 Alumni Association Welcome
Jennifer Offenberger '86
Thank you. I am honored to be part of this ceremony and to welcome you to the ranks of our very proud Long Blue Line of graduates.
You may be asking, Why is the Alumni Association important to me? As a fellow graduate, I personally have found my education and my continuing relationship with the College to be invaluable.  You can expect the same. The Alumni Association exists because of you and for you and is there to support you every stage of your life.
You'll find the Alumni Association is a powerful network with over 25,000 members located all over the world.  In fact, I would bet there are very few places you could travel where you wouldn't find a fellow Pioneer working or living nearby. As a member, you are connected to each of them - fellow alumna with similar interests, job responsibilities, and career paths.
When you leave today, please don't say goodbye, just see you later. Keep connected. Join the Alumni Facebook page, read the Trailblazer or log onto the website and join PioneerNet to keep up to date with all things navy blue and white. Make sure you come back for Alumni weekend, Homecoming and other special events. Look for alumni networks around the country. We'll be watching for you. And, just like grandma, we'll be excited to hear about what is going on in your life.  Please share your job announcements, marriages, birth announcements, address updates, special achievements and more as you journey through life. We'll be beaming with pride.
Our hopes are that you'll feel that same pride in your alma mater. Consider volunteering your time to mentor a student, serve on a career panel, or become an alumni volunteer. You may want to start a regional association or coordinate a special reunion. Marietta College offered you a great place to learn and grow, we hope you'll want to return the favor.
Today you are about to encounter one of the most significant changes in your life. I encourage you to embrace that change and the opportunities it presents. Stay in touch with your friends, your professors and the navy blue and white. Let me be the first to say welcome graduates of the class of 2014 – to membership in the Long Blue Line.