Ambassador from Barbados to deliver Commencement address in May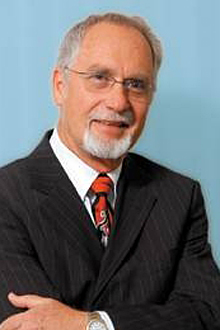 John Beale '71, the Barbados Ambassador to the United States, will deliver the keynote address at Marietta College's 178th Commencement on Sunday, May 3.
"We are honored that Ambassador Beale accepted our invitation to speak to the Class of 2015 at this year's commencement ceremony," said President Joseph W. Bruno. "I hope the graduates and their families will share my excitement in having him speak to us about his experiences in the banking industry, as well as his time in Barbados."
Beale was appointed Ambassador to the U.S. on Jan. 29, 2009, and lives in Washington, D.C.
He earned a Bachelor of Arts degree in Economics from Marietta and added an MBA from the Thunderbird School of Global Management in Arizona in 1978. Beale made his connection to Marietta in 1964 after receiving the American Field Service scholarship. At this time he came to Marietta from Barbados and attended a co-ed high school for the first time and developed an affinity for the city.
An international banker for 26 years, Beale was named an Honorary Citizen of Marietta in 1978. His career has included 11 years in the Chase Manhattan Bank network, including more than three years as general manager of the full branch unit at Banco Internacional and eight years as an investment officer with the Business Advisory Service of the International Finance Corp.
Beale also has served as honorary consul in Rio de Janeiro and Uruguay. He speaks English, Portuguese and some Spanish. He and his wife, Leila Mol Beale, have three children.
The College's Commencement ceremony will begin at 1 p.m. in the Dyson Baudo Recreation Center.