Annual Community Service Day scheduled for April 18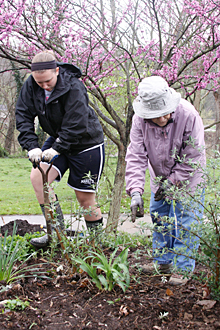 More than 150 Marietta College students will be out in full force to volunteer at the annual Community Service Day on Saturday, April 18.
Marietta College's Office of Civic Engagement is sponsoring the event that runs from 9 a.m.-1 p.m. at a variety of sites around the surrounding community. During Community Service Day, Marietta College students, faculty and staff will have the opportunity to spend the morning volunteering with 11 different non-profit organizations.
For more than two decades, Marietta College students have participated in a spring service day and have provided tens of thousands of volunteer hours to the community at large.
Organizations involved in this year's Community Service Day include: Belpre Area Ministries, The Betsey Mills Club, Ely Chapman Education Foundation, Kroger Wetland, Marietta Cemeteries Coming Alive, Marietta in Bloom, Marietta Main Street, Marietta Tree Commission, MOV Players, United Way and Washington County Harvest of Hope.
Service projects that will be conducted include helping collect items for the United Way's Community Baby Shower, community beautification with Marietta in Bloom, restoring historic cemeteries with Marietta Cemeteries Coming Alive, helping pack up books and decorate for a fundraiser at Ely Chapman Educational Foundation, and more.
This year, those interested in participating can sign up as an individual or as a group. For interested groups, a group leader should be designated when signing up. Individuals can sign up and then be added to groups. Projects will be assigned to groups and the groups will be put in contact with their community partner to make sure everything is set.
Community Service Day will begin at 9 a.m. but will continue throughout the early afternoon at times that work best for the groups and community partners involved.
The deadline to register is April 3. To sign up, go to https://docs.google.com/forms/d/1iQD0L9-isJquJ3rCSQf3l4Niv8DQKKbEkdvRQwA8w58/viewform?c=0&w=1
Any questions should be directed to Lauren Morain '16 (Harrison City, Pa.) at lcm003@marietta.edu or Daley Buckwell '16 (Northfield, N.H.) at dwb004@marietta.edu.