Annual Community Service Day scheduled for April 5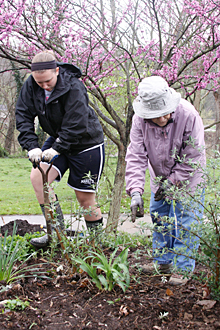 Marietta College's Office of Civic Engagement will hold Community Service Day 2014 from 9 a.m.-1 p.m., Saturday, April 5.
During Community Service Day, Marietta College students will have the opportunity to spend the morning volunteering with 11 different non-profit organizations in the Marietta community. These organizations include: Belpre Area Ministries, The Betsey Mills Club, Ely Chapman Education Foundation, Kroger Wetland, Marietta Cemeteries Coming Alive, Marietta in Bloom, Marietta Main Street, Marietta Tree Commission, MOV Players, United Way and Washington County Harvest of Hope.
Lauren Morain '16 (Harrison City, Pa.), Community Service Day Co-Coordinator, is looking forward to this year's event.
"I'm really excited for Community Service Day and what it does for this community — not only does it provide help for local organizations, but it also serves as a great opportunity for Marietta College students to work together," Morain said. "It's a perfect way for the College community to connect with the Marietta community on a deeper level."
More than 200 students are projected to participate in this year's event. Marietta College students have participated in a spring service day for more than two decades and have provided tens of thousands of volunteer hours to the community.
Individuals who are interested in volunteering should register by March 31 by visiting the Office of Civic Engagement or contacting Lauren Morain,lcm003@marietta.edu, or Daley Buckwell, dwb004@marietta.edu.