Annual Senior Art Exhibition opens with gala on Friday, April 12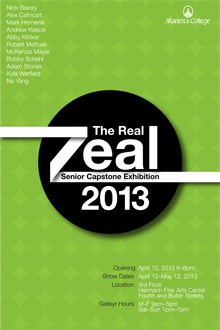 For Marietta College's 11 senior Art and Graphic Design students, the job of organizing and completing their senior capstone project began long before they arrived back on campus in August.
It actually started on their first day in the fall of 2009 as freshmen when they took their first art course in the Hermann Fine Arts Center.
Now they will get a chance to put their final "Marietta College" work on display at the "The Real Zeal" Art and Graphic Design Capstone Exhibition, which opens with a ceremony from 6-8 p.m., Friday, April 12.
The exhibition remains on display until Commencement on May 12.
"For four years, the senior Art and Graphic design majors have developed their skill and inspiration at Marietta College, and this development is expressed in full display The Real Zeal, the Senior Capstone Exhibition," said Sara Alway-Rosenstock, Assistant Professor of Graphic Design. "The variety of art and design work, both formally and conceptually, represents the significance the last four years have had on the art and design skills, inspirations, and zeal that fuels the work of each student."
The 11 seniors being showcased in this exhibition will display a variety of medium and talents during the show. The seniors are: Nicholas Blanzy '13 (Grosse Pointe, Mich.), Alexandra Cathcart '13 (Wilmington, Del.), Mark Homenik '13 (Avon Lake, Ohio), Andrew Kasick '13 (Marietta, Ohio), Abigail Klicker '13 (Pittsburgh, Pa.), Robert Mathais '13 (Canal Winchester, Ohio), McKenzie Mayle '13 (Cutler, Ohio), Robert Schehl '13 (Caldwell, Ohio), Adam Stonier '13 (Tunkhannock, Pa.), Kyla Warfield '13 (Zanesville, Ohio), and Na Yang '13 (Beijing, China).
The exhibition is free and open to the public with regular gallery hours of 9 a.m. to 10 p.m. on Monday-Friday, and 1-10 p.m. on Saturday-Sunday. The Hermann Fine Arts Center is handicapped accessible. For more information: (740) 376-4688.