Area health care to benefit from community partnership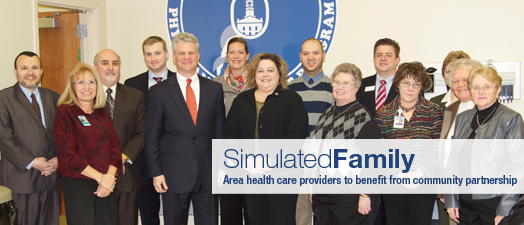 Marietta College, Washington State Community College and Marietta Memorial Hospital will add to its human patient simulator family after receiving a $110,000 grant from the Ohio Governor's Office of Appalachia.
Jason Wilson from the Governor's Office delivered the check to Marietta College during a joint announcement with Dr. Gloria Stewart, Director of Marietta College's Physician Assistant Program Wednesday at the PA Building.
"We've made real progress in health care in Appalachia, thanks to programs like this one and the collaboration that we see with these programs," Wilson says. "But we are not as far as we need to be, so that's why this is so important."
Wilson was joined by a number of interested parties, including Wendy Brewer of the Memorial Health Foundation, Sister Molly Bauer of the Sisters of St. Joseph Charitable Fund, Misty Casto of Buckeye Hills-Hocking Valley Regional Development District, Dixie Stone from Washington State Community College, and Marietta College President Joe Bruno.
Stewart said the simulators, which will include a man, pregnant woman with birthing baby, infant and young child, will be utilized by a large number of health care providers annually — 72 physician assistant students, 500 nurses and physicians and 80 students in nursing and physical therapy programs.
"As the program director of the Marietta College Physician Assistant Program it is my responsibility to provide the best medical education for our students. The PA Program has been able to increase our student's opportunities for a quality medical education by working with our community partners since the start of the program in 2002," she says. "Previous funding has provided the community with our first human simulator in 2006; the development of the Washington County Free Clinic; and renovation of the PA program facility."
Stewart notes that the use of human simulators increases the opportunity of students and other providers to learn the best practices of health care so they can provide the quality of care to their patients.
The remainder of the money needed to purchase the simulators, which are expected to be delivered this spring, came from the Memorial Health Foundation ($30,000), Marietta College ($30,000), Sisters of St. Joseph Charitable Fund ($25,000) and Washington State Community College ($5,000). There is also $20,000 of in-kind donations from Marietta Memorial Hospital ($15,000) and the College ($5,000).
"Through this collaboration, the College will be able to purchase what we are calling the 'family' of several simulators to help prepare all health care practitioners in the community in the best practices of medical care for our patients," Stewart says. "Research shows that students who practice on patient simulators before approaching a patient have better skills and exude more confidence to the patients."
The ultra sophisticated and highly versatile simulators blink, speak and breath, have a heartbeat and a pulse, and accurately mirror human responses to procedures such as CPR, intravenous medication, intubations, ventilation and catheterization.
Marietta College has graduated 207 qualified health care providers through the PA Program, which began in 2001 with $200,000 from the Appalachian Regional Commission. Of those graduates, 61 percent are now working in either Ohio or West Virginia in specialties like cardiology, orthopedics, surgery and emergency.
"The more I learn about the PA program the more I have come to value it," Bruno says. "This really is a community effort and it would not have happened without the collaboration that exists in this region."