Army vet ready to take on football, elementary students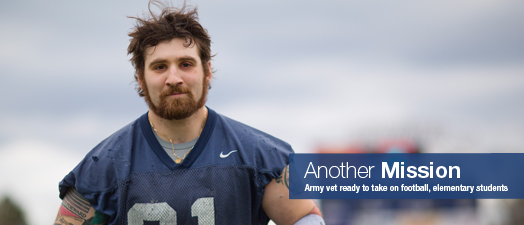 This story originally appeared in the Spring 2014 edition of Marietta, The Magazine of Marietta College.
---
Standing alone on the field at Don Drumm Stadium, Jarred "Sarge" Malcolm '17 (Freeport, Pa.) slips on a Marietta College football jersey for the first time. It's not game day yet, but he feels a sense of pride that's hard even for Jarred to explain.
Jarred's path to this day is nothing like the rest of the Marietta football players who are 18 to 23 years old. A 26-year-old Army veteran, Jarred arrived at Marietta in January on the GI Bill ready to fulfill his dream of playing college football.
When Jarred was 18, though, he had given up this dream and joined the U.S. Army. Three years into a seven-year commitment, Jarred reflected on his life and realized he still wanted to play college football. During his deployment to Afghanistan, three of Jarred's squad mates — Staff Sgt. Daniel Merriweather, Spec. Geoffrey Whitsitt and Pfc. Brandon Owens — were killed in action.
"Losing my buddies pushed me toward it. You start to realize the whole American dream, and I wanted mine — and it included playing football again," says Jarred, who served 13 months in Afghanistan during some of the fiercest fighting. "There's nothing I can do now to get them back to their families, but I want to make them proud of me. I know it would make them happy looking down on me and seeing me go after my goal."
Still, he was in the Army and thousands of miles away from any college football program. The only thing he could think of to garner some attention was to post videos online of his weight room activities. On the video he asked any coaches who were interested in giving him a shot to contact him. He heard from almost 20 coaches, including some former coaches from Marietta.
"I visited Geneva College, but it didn't feel like a fit for me," says the Freeport, Pa., native. "Marietta was the second place I visited, and the moment I set foot on campus it felt right. I'm from a small town and the small town atmosphere here gets to me."
With 23 tattoos — "every needle prick represents part of the pain that I went through. It's a reminder to me of everything I've been through and where I'm at now" — and many of them visible on his Popeye-sized arms, Jarred's choice of major may seem odd. However, the Elementary Education student believes he'll make a great teacher.
It wasn't until he returned to the U.S. that he realized how much he liked teaching.
"I helped coach a youth football team and I got to teach what I loved and work with kids," says Jarred, who is also a volunteer firefighter at Station 36 in Sarver, Pa. "My cousin is the head coach of my high school team, but also a fourth-grade teacher. I could see myself doing something like that. … Despite how I look, I really do have a soft side."
In addition to his combat tour in Afghanistan, Jarred spent 15 months in Korea and also served as a paratrooper at Fort Bragg, N.C., and with the 10th Mountain Division in Fort Drum, N.Y. The perspective his military experiences have given him will prove valuable during tense moments on the field.
"I usually downplay everything, but I can say this, when it's fourth-and-one and everyone thinks things are getting tough, I'll just remind myself that I'm not getting shot at," Jarred says. "Football coaches and players like to refer to playing the game as war. I've been to a real war and the stress of football is nothing like that."
It's that type of perspective that has impressed Marietta's coaches, especially defensive coordinator Andy Stillman.
"Jarred does not want to be treated any differently and never talks about where he has been. He only wants to be a part of something special as we build this program," Stillman says. "Because of his attitude and his work ethic he will prove to be a great asset to this team in the 2014 season."
Stuart Malcolm, Jarred's father, says his son was nervous as it got closer to reporting for the spring semester due to the drastic lifestyle change.
"I told him, 'After everything you have been through, this is going to be nothing,' " Stuart says. "He agreed."
Stuart is ecstatic for his son, and says he believes going to college has made a real difference in his son's outlook on life.
"When you look at these guys who have been in combat and until you have someone who has been affected by that, you don't understand," Stuart says. "When he got back from Afghanistan, you could just tell he was a different person. … Now that he's in school and playing football I can see how much more relaxed he is and he can at least put that part of his life aside for a bit. It will never leave him, but he sees a future now."
It's a future Jarred always knew he could have.
"When people watch a war movie, there's always an end. For veterans, the battle truly never ends. You are stuck with it in your head for the rest of your life," Jarred says. "I've done things that people couldn't imagine doing. I've jumped out of planes, I've been all over the world, and I made it through some of the hardest training the Army could throw at me. I was just fighting to make a better life for those I love and care about."
Whether he ever starts a game for the Pioneers or not, getting a degree and the chance to slip on a jersey one more time is true satisfaction for Jarred.
"I like to think what I did and what I will do will make a difference," he says. "Right now it's hard to think about the emotions I will feel when I finally put on the Marietta jersey for that first game. It will be for my friends who are no longer here. It will be for my family, who I hope are in the stands watching. This was my driving force during those seven years in the Army. Now I'm focused on earning my degree and walking across the field on Senior Day as a 31-year-old football player."