Athletic Training program takes nine students to Australia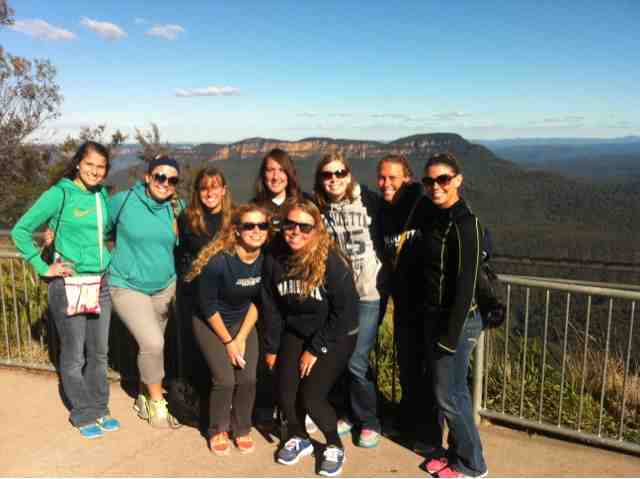 It is common knowledge on Marietta College's campus that the Athletic Training major is one with practical experience that is often practiced away from the classrooms in the Dyson Baudo Recreation Center.
Even 10,000 miles away is not too far of a stretch.
That's because in May, shortly after Commencement, nine Athletic Training majors traveled with Assistant Athletic Trainer Jaclyn Schwieterman to Australia for a two-week study abroad excursion. For new alumna Chyrsten Regelski '13 (Greenville, Ohio), one of two graduates to make the trip, it allowed her a unique experience outside the United States.
"I wanted to go on this trip because I knew that it would set me apart both in my search for graduate schools and jobs," she said. "Not many students in sports medicine get the opportunity to study abroad because our field of study doesn't really translate to other countries like political science or leadership."
For the 10 on the trip, it also provided an opportunity to meet one of Australia's most highly respected athletic trainers, Dr. Jenny McConnell.
"Dr. McConnell is well known in the taping world of athletic training, so being able to meet with her was an amazing experience," Schwieterman said.
The group attended several lectures with McConnell and her colleagues, observed in a trainer's room before a Bears rugby match and learned new tape-strapping techniques.
"Dr. McConnell also taught us some muscle energy techniques for stretching and activating muscles that are usually hard to target," Regelski said. "We also gained knowledge of new approaches we can take when performing rehabilitation and evaluations at the knee and hip."
The trip was as much as cultural experience as it was educational for the students, who tried surfing, visited major tourist attractions, watched and played traditional Australian sporting events such as netball and the Australian Football League.
Schwieterman's goal in planning the trip was to make it as much of a cultural experience as most semester-long study abroad experiences.
"Originally I wanted to teach abroad but after having a session in my FYE class last year about studying abroad, I found that a lot of the students were really interested in going abroad," she said. "In our major, it is hard to take a whole semester to study abroad so I thought making a two-week trip would be easier and allow the students the same experience. For some it took a little bit to get the culture, expensive food, public transportation, etc., but being able to adjust and overcome it was awesome to see. We were able to make great relationships and meet a lot of really cool people along the way too. Being thrown into the culture made it fun and interesting."
The other eight students who made the trip were: Trayla Liles '13 (Tollesboro, Ky.), Aimee Cline '14 (Rittman, Ohio), Kelsie Sparber '14(Espyville, Pa.), Todd Sabol '15 (Barberton, Ohio), Jenna Smith '15 (McMurray, Pa.), Gretchen Baisden '15 (Rittman, Ohio), Amanda Lusky '15 (Pittsburgh, Pa.) and Shelby Preston '15 (Bellbrook, Ohio).