ATOs organize fundraiser for stricken classmate
As most students were preparing for the rigors of fall semester this year, Track & Field athlete Samantha "Sami" Hood '15 (Pittsburgh, Pa.) was facing an even tougher battle.
Having recently been diagnosed with lymphoma, Sami left campus in order to begin treatment. Just before Homecoming Weekend kicked off, Sami's friends in the Alpha Tau Omega fraternity showed their support in a big way. The brothers, along with alumni brothers, fellow students and Marietta College employees, began the Cycle 4 Sami fundraiser. Sami supporters pledged to ride three stationary bicycles in shifts for 168 hours — seven days straight.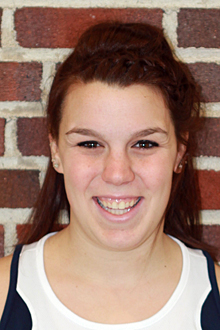 ​"I found out about Sami's condition late on Sept. 16 and planning pretty much started after I heard she had withdrawn from school for the semester," says Cameron Smith '15 (Urbana, Ohio), a friend and ATO brother. "I am still in close contact with her, as we have been friends since freshman year. She is great friends with my girlfriend and they have been roommates for the last two years … Sami is aware of the event and has been very thankful on social media, along with some personal texts that all the support means a ton to her."
It was Smith's idea to organize the event and had some help with fellow ATO Roger Patterson '62, a chapter advisor who lives in Marietta and provided a spinning bike for the event.
"Many of the ATOs do riding over the summer to raise money for MS. This year, we raised more than $12,000, so it made sense to do this," Patterson says. "I am just surprised at how fast they were able to pull this together. They've asked everyone to ride an hour, and all of the slots were pretty much filled by the time they brought it to me."
Two riders will cycle at a time, though there is a third bike for extra support. Patterson volunteered to ride during the seven-day stretch.
"Sami is an awesome person and she's very strong," says Heath Blandford '16 (Cincinnati, Ohio), an ATO brother. "When we learned she had lymphoma, we were surprised, but then we figured, 'Why not help her?' This is something we can do to help show our support and help her pay for chemo."
As they ride day and night, post their support through social media and raise money, the ATOs guarantee that Sami won't fight this alone.