Author of Common Reading to speak at College on Sept. 10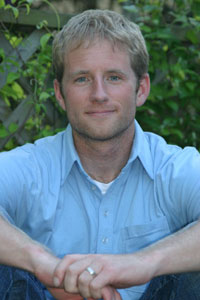 A college campus is the perfect place to see different styles and some of the hippest fashions for a time period.
But have many of the students actually thought about where their wardrobe is from? Probably not, but author Kelsey Timmerman did just that and he began a journey that took him from Honduras to Bangladesh to Cambodia to China and back again.
Timmerman's experience turned into a book, "Where Am I Wearing?" which is Marietta College's 2013-14 Common Reading assignment for the Class of 2017. The author will also speak on campus as part of the annual Esbenshade Series at 7:30 p.m., Tuesday, Sept. 10, on Fenton Court.
Dr. Suzanne Walker, Assistant Dean for First Year Experience, said the choice of book is always tied to the College's annual theme, which is Internationalization: Global Perspectives.
"The goal of the Common Reading program is not only to give us a shared context for celebrating the theme of the year, but to help students get in the habit of reading," Walker said. "In a time when many consider Facebook posts and tweets as 'reading' it is critical to academic success that students can pick up a book and engage with it. I hope that students will enjoy the book we've selected and that it is one book of many that they pick up over the summer as they 'train' for the reading demands of college."
In the book, Timmerman works to introduce readers to the human element of globalization — the factory workers, their names, their families and their way of life. "Where Am I Wearing?" also helps bridge the gap between global producers and consumers.
"Our common reading selection this year is the perfect book to reminds us of the lessons of last year's theme, Leadership and Social Justice, in a new context of international perspectives as we explore the world through Kelsey Timmerman's book," Walker said. "As the committee worked to select the book for this year's theme the following quotation from Timmerman's book really resonated with us: 'when it comes to clothing, others make it, and we have it made.' The other aspect of Timmerman's book that I think incoming first-year students will appreciate is the letter to himself as a freshman that he includes as an appendix to the book. It is a wonderful letter of 'if I'd known then what I know now' encouragement and advice that he shares with all of those getting ready to head off to college."
Walker added that it is the goal to continue the discussion into the second semester by hosting book discussion groups in the residence halls as Marietta College continues this international journey by learning about where food comes from and who grows it.
Dr. Nicole Livengood, Associate Professor of English, has organized a group of peer mentors who will lead a discussion on the Common Reading.
"This activity helps first-year students get excited for the more academic aspects of college and that also models for them what engaged, thoughtful class discussion can look like," she said. "At the same time, the fact that the mentors are leading the discussion can take some of the fear of the classroom away and help students feel more comfortable and confident as they begin their college careers." 
In addition to the reading assignment, the first-year students have another homework assignment as well. Each one has a 500-750-word reflection paper due to their orientation leader by Aug. 23.