Author Wes Moore delivers 'passionate' plea to students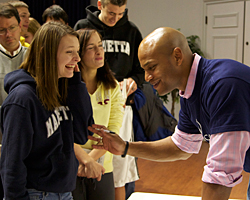 Author Wes Moore appealed to a standing-room-only crowd at Marietta College Tuesday (Oct. 13) to consider their actions in the context of a greater purpose and to find their passion.
"If all you do is leave Marietta College with a diploma, then you have missed an opportunity," Moore said. "Find your passion and do something about it. Get out and help. If you haven't found your passion yet, that's OK, but keep looking."
Moore was invited to campus as part of the Esbenshade Series, but also to speak about his book, "The Other Wes Moore: One Name, Two Fates," at the Alma McDonough Auditorium. "The Other Wes Moore," was also Marietta College's Common Reading for 2012.
Moore's 45-minute talk captivated an audience that was mostly made up of freshmen. However, there were plenty of community members as well as College employees.
Dr. Suzanne Walker, Assistant Dean for First Year Experience and Advising, was excited by the campus response to Moore's appearance.
"Wes Moore's visit was a perfect culimination to our First Year Common reading program. He brought alive not only the story of The Other Wes Moore, but he helped us realize the many ways it related to all of us," she said. "For our theme of Leadership and Social Justice, he reminded us that we can make a difference, in our own lives through the choices we make and in the lives of others as we pursue our passion and make the world a better place."
Christian Sanders '14 (Cleveland, Ohio) said Moore's message was powerful and he was pleased to get an opportunity to hear him speak.
"He told us we all do make mistakes and the beauty in mistakes comes from how we respond to them and learn," he said. "I think that's very important to tell college students at such a crucial point in their lives."
Logan Maltese '16 (Massillon, Ohio) is grateful the College chose Moore to speak on campus and required the freshman class to read his book.
"Mr. Moore had so much wisdom to offer, something I wish to acquire through my own life lessons and toils. One of my favorite quotations was one he wrote in my copy of his book as he autographed it, 'make up your mind to define your own destiny,' " Maltese said. "He told listeners that in order to discover your passion in life, you must go by your own timeline. I agree with his mantra that we should never let others limit our potential. We, as individuals, have the power to mold ourselves into whatever we wish to be. No one else can hold you back unless you allow them. I am so very grateful I was able to listen and speak to Wes Moore. I am positive I will benefit from this experience for the rest of my life."
Moore speaks on dozens of college and university campus each year, but he works to tailor his message to the specific audience. On Tuesday, he encouraged Marietta's students to take advantage of study abroad opportunities and he applauded them for their commitment to volunteering in the Mid-Ohio Valley community.
"Success is not a job title. I know people who have fancy titles, but they don't make a difference every day," Moore said. "I know people who don't have a title at all, but they make an impact in people's lives and in their community. If you find something you are passionate about you will want to fight for it. If you do that then you will be able to rest easy after you have left this earth."
Moore had life-changing interventions in his life, including his mother's decision to send him to military school and words of encouragement from a number of mentors. It made an impact on Moore, who was transformed from a youngster being handcuffed at age 11 to a Rhodes scholar, White House Fellow and Army combat veteran.
While telling the audience about a former colonel, who was visibly losing weight and Moore later learned was dying, told the soldiers something that has stuck with Moore ever since.
"He said, 'Make it matter that you were ever even here in the first place," Moore said.
Moore also talked about his book and the other Wes Moore, who became a drug dealer and is serving a life sentence in a Maryland correctional facility in Jessup without the possibility of parole. He was convicted in 2001 of felony murder for his role in the killing of an off-duty Baltimore County police sergeant during a jewelry heist.
The author said he did not write the book as a way to figure out how their two lives took divergent paths, nor to seek legal recourse and overturn the court's decision. Instead, he hopes he was able to show the inadequacies that exist in neighborhoods around the U.S.
"I believe everyone has the same potential, but not everyone has the same opportunities," Moore said.