Author/Educator Tallie to speak at annual Black History dinner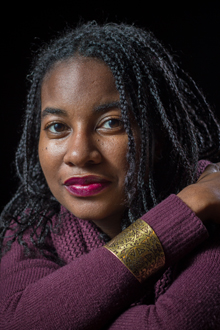 Mariahadessa Ekere Tallie, author of Karma's Footsteps, will speak at Marietta College's annual Black History Month dinner at 6 p.m., Monday, Feb. 17.
The dinner will be conducted in the Andrews Hall Great Room.
A poet, writer and educator, Tallie is the poetry editor of the literary magazine African Voices. She has also taught English at York College in Queens, N.Y., and Medgar Evers College in New York City. Her work focuses on women, creativity and the healing power of art.
UK-based Flipped Eye Press published her first book of poetry, Karma's Footsteps. In it, she tackles issues of racism and sexism while celebrating the healing power of voices raised against injustice.
Her poetry has been featured on Dutch television and is the subject of a short film.
Tallie has been a featured speaker at universities, festivals and events throughout Europe and North America. Her work has been published in Crab Orchard Review, BOMB, Paris/Atlantic, Go, Tell Michelle (SUNY), Listen Up! (One World Ballantine) and Revenge and Forgiveness (Henry Holt).