Award-winning writer Elizabeth Eslami speaking at College March 24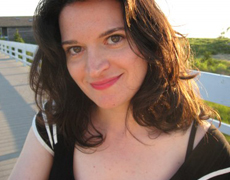 Elizabeth Eslami, winner of the 2013 Ohio State University Prize in Short Fiction, will be conducting a reading in Marietta College's Alma McDonough Auditorium at 7:30 p.m., Thursday, March 24.
Sponsored by the College's English Department, the event is free and open to the public. A reception will follow in the McDonough Gallery.
Eslami, who teaches creative writing at Indiana University, will be reading from Hibernate — the book that earned her the honor from Ohio State. She is also the author of the acclaimed debut novel Bone Worship (Pegasus, 2010).
Her essays, short stories and travel writing have appeared in numerous publications, including The Sun and Witness, The Millions, The Nervous Breakdown, Matador, and The Literary Review. Also, her work was featured in the anthologies Tremors: New Fiction By Iranian American Writers, The Weeklings: Revolution 1, and Writing Off Script: Writers on the Influence of Cinema.
Eslami earned a Bachelor of Arts degree from Sarah Lawrence and a Master of Fine Arts from Warren Wilson College.