Bank of America CEO speaking to Economic Roundtable on March 24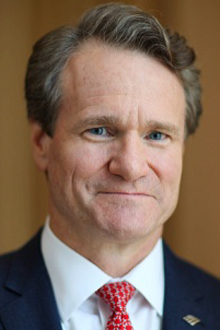 Brian Moynihan, Chief Executive Officer of Bank of America, is the next guest speaker for the Economic Roundtable of the Ohio Valley.
Moynihan, who was born and raised in Marietta, will be at the Lafayette Hotel at noon, Tuesday, March 24. His talk is called "Fireside Chat with Brian Moynihan," which involves answering a series of member-submitted questions moderated by David Mead of Marietta College. There will also be an open Q&A at the end.
Moynihan leads one of the world's largest financial institutions, and in his more than 20-year tenure at Bank of America, he has led each of the bank's lines of business, including consumer/small business banking, wealth management, and corporate/investment banking. He also chairs the company's board of directors.
Moynihan also leads Bank of America's Global Diversity and Inclusion Council. Moynihan was elected a trustee of the Corporation of Brown University in 2010. He serves on a variety of leadership councils that focus on economic trends and policymaking including the World Economic Forum International Business Council, Financial Services Forum, which he chairs, and the Bi-Partisan Policy Center CEO Council on Health and Innovation. Moynihan also serves on the Museum Council for the Smithsonian's National Museum of African American History and Culture.
Moynihan holds a law degree from the Notre Dame School of Law and a bachelor's degree in history from Brown University. He is also a graduate of Marietta High School.
Moynihan will also conduct a Leadership Q&A session from 10:45-11:30 a.m., Tuesday, March 24, in the Alma McDonough Auditorium.
The Economic Roundtable of the Ohio Valley is a non-partisan non-political educational organization that formed in 1982 as a result of collaboration between the Business and Economics Department at Marietta College and a group of business, civic and educational leaders. The object of the Economic Roundtable is to promote an interest in and to enlighten its members and others in the community on important governmental, economic, and social issues. Since its inception, the Economic Roundtable of the Ohio Valley has presented the Ohio Valley with more than 160 distinguished speakers who have enlightened and informed ERT members with their fascinating discussion on a broad scope of governmental, economic and social issues. 
The ERT's speaker series is open to its members only. The ERT's membership is open to all interested individuals at $35 a year. To join ERT, please contact David Mead at dave.mead@marietta.edu or call him at (740) 376-4632. You may find more information on ERT at economicroundtable.org.