Big events defined life at Marietta in 2012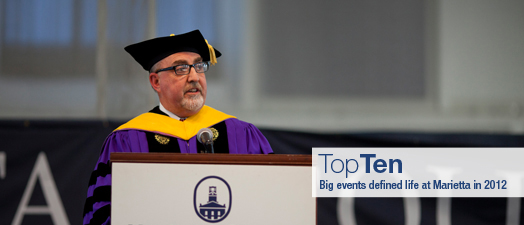 By now, your 2012 calendar is taking up space in the recycle bin and your energy is being spent rustling up your office receipts for the mid-April extravaganza known as tax time. But as 2013 just gets underway, we'd like to refresh your memories about the many great events that took place in the Marietta College community during the past 12 months.
As voted on by the Cabinet, here are Marietta College's top 10 stories of 2012 …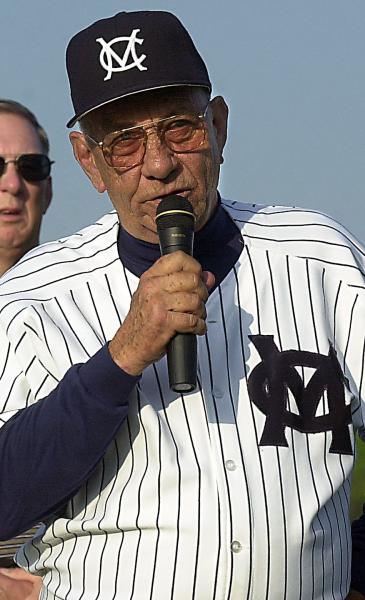 10. The late Don Schaly '59 inducted into MCAA Hall of Honor
A former catcher for the late coach Don Drumm, J. Donald Schaly '59 returned to Marietta College to take on the coaching reigns of the Etta Express in 1964. During his 40-year career at the helm of the baseball team, he compiled the finest record in Division III history with 1,442 wins, coached more than 600 players and earned three National Championships.
Before retiring after the 2003 season, he also guided his team to 18 Mideast Regional Championships, 27 Ohio Athletic Conference Championships and to seven second-place national finishes. To honor his contributions at Marietta College, his name was added to the Marietta College Alumni Association's Hall of Honor during the 2012 Homecoming celebration in October. Accepting the award on behalf of his father, who passed away in 2005, was his son, Jeff Schaly '90, who is Marietta's Assistant Athletics Director for Sports Information and Compliance.
9. Marietta College installs a wind turbine on campus
Two energy-related minors recently created at Marietta College received an interesting piece of lab equipment in early 2012 after the College received a grant from The Dominion Foundation.
During the spring semester, a 55-foot-tall wind turbine was installed between the College's softball field and the Beren Tennis Center. The turbine, which has three 6-foot blades, generates about 5,000 kilowatt hours per year, though its main purpose is for educational use for students primarily pursuing minors in either Energy Systems Engineering or Energy Systems Studies. Dominion Resources, the company behind the charity, provided a $25,000 grant to the College as a part of its program to support conservation, alternative energy, environmental and technical studies, and minority retention programs.
8. Marietta hosts the 36th annual Ohio Valley Shakespeare Conference
About 100 fans of The Bard descended on campus in October to celebrate and share their affinity for and knowledge of William Shakespeare during the 36th annual Ohio Valley Shakespeare Conference.
It was the second time in six years the event was conducted on campus. Making it special this year was the Theatre Department's outdoor performance of Hamlet, in the green space between Irvine and Andrews. The conference was a joint effort between the Office of Academic Affairs, the Theatre Department, the Esbenshade Series, Conference Services and the English Department. The Baltimore Consort also performed during the Oct. 18-20 weekend.
7. Athletics basks in spring sports successes
Marietta athletes received plenty of accolades after having a successful spring season and were honored during the MCAA Awards Ceremony at the start of Homecoming 2012.
From the Etta Express winning back-to-back National Championships in Grand Chute, Wis. — the sixth title in the College's baseball history— to women's rowing advancing to the Grand Final during the NCAA Championship and placing fifth, Marietta College's student-athletes left their marks on their sports at the end of the 2011-12 academic year.
In track & field, Ashley Bault '12 earned All-American honors and became the most awarded track student-athlete in Marietta College's history during the 2012 NCAA Outdoor Track & Field Championships in Claremont, Calif., in May. Ryan Lopez-Jordan '14 also earned All-American status with his performance during the championships in May. He placed seventh in the men's 110-meter hurdles and set the Marietta record during the preliminary heats for that race.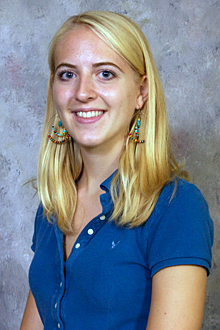 6. McCoy Scholar wins NASA scholarship
For the second year in a row, a Marietta College Education major has nabbed the top spot during the Ohio Space Grant Consortium in Cleveland, Ohio.
McCoy Scholar Anna Gill '12 won first-place in the poster competition held during the spring. Her win followed Leah Mendenhall's win in 2011. Gill's poster presentation, which focused on teaching spectroscopy as part of a union on the electromagnetic spectrum, was chosen by judges as the top presentation for all education students teaching in grades from kindergarten through 12.
Gill earned her Bachelor of Arts in Middle Childhood education in May and was inducted into Phi Beta Kappa and Omicron Delta Kappa.
5. Harrison Hall welcomes first residents
After around the clock construction along Seventh and Putnam streets for a solid year, Marietta College unveiled an impressive addition to campus this summer — Harrison Hall.
Harrison Hall was named after true pioneers Charles Sumner Harrison, class of 1876, John Langston Harrison, class of 1887, and Walter Clifton Harrison, class of 1891. Charles was the College's first African-American graduate. It houses 364 students, mostly upperclassmen, in apartment-style accommodations.
With the opening of Harrison Hall, students have also gained access to the Dr. J. Michael Harding Center for Health and Wellness, which is located in the Seventh Street wing of the building. The center's name memorializes the late Dr. Harding, who was the director of Counseling Services and a longtime advocate for providing health services to students.
4. Marietta moves up in rankings
Everyone at Marietta College knows just how great this place is. From the education that's provided to the buildings that facilitate much of that education, the College has a great environment for learning.
In its annual survey, U.S. News & World Report bumped Marietta College up two spots from last year's No. 5 ranking as the third best regional college/university in the Midwest, sharing the No. 3 position with Augustana (S.D.) College.
Three factors that made Marietta stand out were the percent of classes consisting of less than 20 students (79 percent), percent of full time faculty (90 percent) and peer assessment (3.4 out of 5).
3. Marietta College adds large Phi Beta Kappa class
More than a dozen academically successful students who have exhibited good character throughout their four years at Marietta were inducted in the nation's oldest national academic society in late April.
Monica Dimick '12, Laura Finck '12, Anna Gill '12, Sarah Griffin '12, Sara Harp '12, Jennifer Kuebel '12, Bethany McFarland '12, Xiaoyue Ni '12, Whitney Putillion '12, Casey Smith '12, Amber Vance '12, Will Vance '12, Emma Vierheller '12, Michael Wiley '12 and Rachel Worthington '12 are among the 2012 class of the Gamma of Ohio chapter of Phi Beta Kappa. The students were inducted during a special ceremony on April 30, two weeks before they became members of The Long Blue Line.
2. Marietta receives inaugural Ohio Campus Compact award
Since adding its first AmeriCorps VISTA (Volunteer in Service to America) to campus in 2007, Marietta has continued to build a strong student volunteer presence in both the local community and the global community as well.
During this year's Ohio Campus Compact AmeriCorps VISTA Impact Report presentation, the College learned that it was the recipient of the OCC's first ever Civically Engaged Campus of Distinction Award. The award recognized Marietta's "exemplary commitment to campus-community civic engagement and positive social change" since incorporating the OCC into the McDonough Center's Office of Civic Engagement.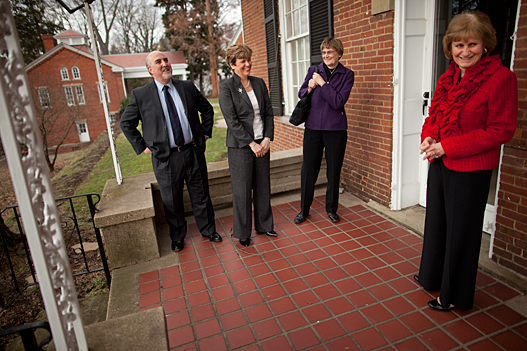 1. The Presidential transition at Marietta College
In late October, an assembly of members from the Marietta community, academic dignitaries throughout the country and from China, friends and family converged on campus to officially welcome the College's 18th president into the fold.
Dr. Joseph W. Bruno, a talented chemistry professor and administrator from Wesleyan University in Connecticut, was inaugurated on Oct. 12 during a formal ceremony in Dyson Baudo Recreation Center. Hundreds of people attended the event, which was broadcast live on the Internet as well. Board of Trustees Chair Barbara Perry Fitzgerald '73 delivered the charge and charter of the College to Dr. Bruno shortly after his daughter Lisa gave a moving introduction for her father. His address, Engaging our Resources, reaffirmed the strengths that Marietta College as a top-notch liberal arts college, offers the world.
Dignitaries who came to Marietta to share in the College's celebration included Dr. John Churchhill, National Secretary of Phi Beta Kappa, Dr. Robert Huntington, President Liu Hui from the University of International Relations in Beijing, China, the President of Heidelberg University, and keynote speaker Dr. Judith C. Brown, Emerita Professor of History at Wesleyan University and mentor to Dr. Bruno.
An open reception in Hermann Fine Arts Center and a special dinner in the Great Room in Andrews Hall followed the ceremony.
Dr. Bruno began his duties at Marietta on July 1, after Dr. Jean A. Scott officially retired as the College's 17th President.
After a dozen years at the helm, Dr. Scott left with much gratitude and many, many well wishes from a grateful campus community that she truly helped to stabilize and grow.
Dr. Scott arrived at Marietta in July 2000, when the campus was definitely on unstable footing. But after finishing a financial campaign already in progress, starting and finishing another major campaign that saw the construction of several new facilities, attracting talented faculty and stabilizing enrollment, it was clear the 17th president had deserved a well-earned break.