Blanzy '13 finalist for AICUO art award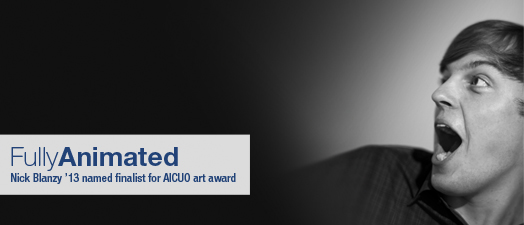 When Nick Blanzy '13 (Grosse Pointe, Mich.) arrived in the fall of 2009, he was a psychology major who dabbled in art.
Almost four years later, Blanzy is an artist who hopes to go to graduate school at UCLA or the University of Chicago to gain more experience in animation and filmmaking.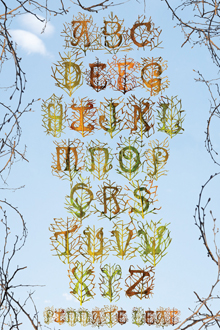 "My whole life I've had a passion for drawing," says the Graphic Design major. "After taking a few art appreciation classes I started to realize there were some job opportunities out there for someone like me and I made the switch to a new major."
Blanzy's artistic ability has not gone unnoticed. He was recently named a finalist by Association of Independent Colleges and Universities of Ohio for its Award for Excellence in the Visual Arts. Blanzy will be recognized on Wednesday, April 3 with a reception that includes a student panel, an art exhibition of the six finalists and an awards ceremony at Denison University.
"I am extremely honored and shocked because I felt there would be a lot of talented people who would blow me out of the water," Blanzy says. "But it is nice to have my art validated in this way."
Blanzy submitted 10 samples including video, photography and audio. His work, along with the other finalists, was judged by a dozen arts faculty members from AICUO-member campuses after being nominated by Marietta College.
"In every professor's career there are students who remind you of why you got into the profession of education in the first place, and for me, Nick Blanzy is one of those students," says Jolene Powell, McCoy Associate Professor of Art. "To say he is truly passionate about his work seems too simple, because he is continually working, studying, and reconfiguring projects. He lives an inspired intellectually stimulating life — there are many times Nick comes to my office to show me a video of an artist, film or music he recently found. Nick will make art, there is no question, he is an artist and that is why he more than deserves to represent Marietta College as a finalist for the AICUO Award for Excellence in the Visual Arts."
The finalists' work is now being judged by 1 visual-arts-community leaders from across the state and a leading Ohio legislator, Rep. Cliff Rosenberger, chair of the House Higher Education Finance Subcommittee, to determine the grand award winner. The Grand Award winner will receive a $2,500 cash prize and have a piece of their art purchased by AICUO and hung in the governor's office for the next year.
"The general impression that I got was the judges wanted to not only see art that showed some level of skill, but was also a representation of the artist as a person," he says. "They really wanted to get to know what my interests were and where I find my inspiration. I get very passionate about the pieces that I create, and tend to put all of myself into each one. I feel the work that I submitted was a strong expression of who I am."
The other finalists are Chelsea Flowers of Denison University, Matthew Gallager of  Oberlin College, Evan Lolli of the College of Mount Saint Joseph and Ashton Saunders and Markia Wright of the University of Rio Grande.
Blanzy is excited by the prospect of being the overall winner, but he's also focused on finishing his senior capstone project and graduating.
"I have thoroughly enjoyed my experience at Marietta College," he says. "Getting to see and hear the different perspectives from the professors has been so eye opening for me. I'm in a monoprint class right now and I had never explored anything like it before. It's really a different way of creating an image. It's really cool to gain that perspective."