Board of Trustees approves tenure for three faculty members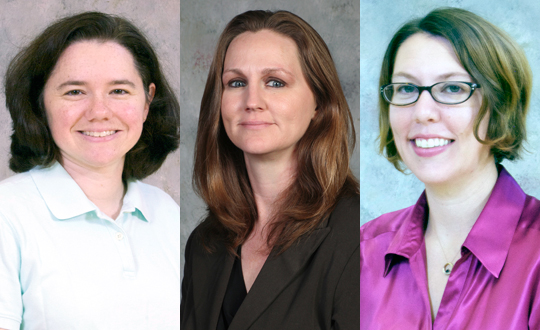 Marietta College's Board of Trustees is pleased to announce that three faculty members have been selected to receive tenure.
The recently tenured faculty are Dr. Ann Bragg, Assistant Professor of Physics and Director of the Anderson Hancock Planetarium; Dr. Tanya Judd Pucella, Assistant Professor of Education and Leadership Studies; and Dr. Nicole Livengood, Assistant Professor of English.
All three will gain tenure status on July 1 at which time they will be promoted to associate professors.
Bragg arrived at Marietta in 2008 after teaching introductory courses in both astronomy and physics at Bowling Green State University. She earned her Ph.D. and Master of Arts in Astronomy from Harvard.
"I am extremely happy to receive tenure. I have found my time working with the faculty, staff, and students of Marietta College, as well as the larger Marietta community, to be personally and professionally fulfilling," Bragg said. "I am grateful that I will have the opportunity to continue doing so well into the future."
Livengood's area of specialization is in early American literature, with an emphasis on 19th-century women writers. She also started at Marietta in 2008 and was awarded the Edward G. Harness Outstanding Education Award in 2012. She earned her Ph.D. in Early American Literature and Women's Literature and her Master of Arts in English Literature, both from Purdue University.
"My time at Marietta has been engaging and challenging in all the right ways, and I am really pleased that I can continue working with such great colleagues and students," Livengood said.
Judd Pucella's research interests include teacher leadership, educator burnout, the National Board for Professional Teaching Standards, and nonprofit organizational capacity. She recently concluded a comprehensive study of nonprofit capacity in the Mid-Ohio Valley. She joined the Marietta faculty in 2006 after earning her Ph.D. from the University of Central Florida.
"I feel truly lucky and honored to achieve tenure at Marietta College," Judd Pucella said. "I have enjoyed the tremendous support of my colleagues here and look forward to being a long-term contributor to Marietta College."
The Marietta College Faculty Handbook explains tenure as something "awarded after at least five years of experience which may be a combination of years teaching at Marietta as well as at other institutions. During that time, the faculty member is reviewed several times to make sure they are doing the job they were hired to do."
The review process entails the professor being observed by the department chair, the Provost, and the College's Reappointment, Tenure and Promotion Committee (RTP), with strong consideration also being placed on student evaluations. The faculty member being reviewed is additionally required to prepare a portfolio including student evaluations, course materials, research and committee work.
"We have an incredibly talented and hard-working faculty. Tenure is a major achievement in a faculty member's professional career," said Dr. Gama Perruci, Interim Provost. "The faculty reviewing the tenure applications take this process very seriously because they know that their peers' professional lives are at stake. After the Trustees voted on approving the tenure applications, I went to each of the faculty member's office and congratulated them personally. I think it's a great tradition and a real joy — to see the faculty's face and the sense of accomplishment. We are very proud of their professional success and dedication to Marietta College."
The Board also approved the promotions of Dr. Bev Hogue to Professor of English and Dr. John Grosel to Associate Professor of Physician Assistant Studies.