Boston University professor to deliver Friedman Lecture talk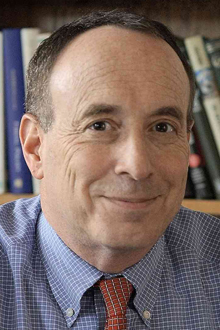 Dr. Laurence Kotlikoff, Professor of Economics at Boston University, is giving the address at the 30th annual Milton Friedman Lecture Series at Marietta College on Monday, Feb. 17.
Kotlikoff will speak about "Why Milton Friedman is Rolling in his Grave," at 7 p.m. in the Alma McDonough Auditorium. The Friedman Lecture is free and open to the public.
He is a Fellow of the American Academy of Arts and Sciences, a Fellow of the Econometric Society, a Research Associate of the National Bureau of Economic Research, and President of Economic Security Planning, Inc., a company specializing in financial planning software.
An active columnist, Kotlikoff's columns and blogs appear in the Financial Times, Bloomberg, Forbes, Vox, the Economist, Yahoo.com, and theHuffington Post. Kotlikoff received his Bachelor of Arts in Economics from the University of Pennsylvania in 1973 and his Ph.D. in Economics from Harvard University in 1977.
Kotlikoff is author or co-author of 16 books and hundreds of professional journal articles. His most recent books are The Clash of Generations (co-authored with Scott Burns, MIT Press), The Economic Consequences of the Vickers Commission (Civitas), Jimmy Stewart Is Dead (John Wiley & Sons) and Spend 'Til the End (co-authored with Scott Burns, Simon & Schuster).
His writings and research address financial reform, personal finance, taxes, Social Security, healthcare, deficits, generational accounting, pensions, saving and insurance.
Kotlikoff will speak at the Economic Roundtable of the Ohio Valley luncheon at noon, Tuesday, Feb. 18. His talk is titled, "Is the U.S. in Worse Shape Than Detroit?" at the Marietta Country Club.
The Economic Roundtable of the Ohio Valley is a non-partisan non-political educational organization that formed in 1982 as a result of collaboration between the Business and Economics Department at Marietta College and a group of business, civic and educational leaders. The object of the Economic Roundtable is to promote an interest in and to enlighten its members and others in the community on important governmental, economic, and social issues. Since its inception, the Economic Roundtable of the Ohio Valley has presented the Ohio Valley with more than 160 distinguished speakers who have enlightened and informed ERT members with their fascinating discussion on a broad scope of governmental, economic and social issues. 
The ERT's speaker series is open to its members only. The ERT's membership is open to all interested individuals at $35 a year. To join ERT, please contact David Mead at dave.mead@marietta.edu or call him at (740) 376-4632. You may find more information on ERT at economicroundtable.org.