Brady, O'Hair named Homecoming king and queen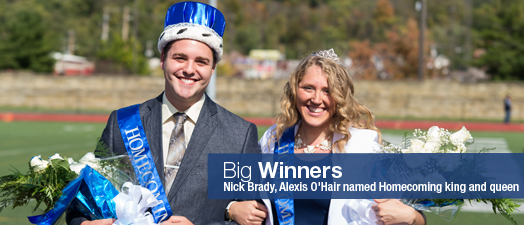 Marietta College seniors Nick Brady (Avon Lake, Ohio) and Alexis O'Hair (Maumee, Ohio) were crowned Homecoming 2014 royalty during halftime of the Pioneers' football game against Baldwin Wallace on Saturday (Oct. 11).
The announcement of the king and queen was just one of the many highlights in a weekend full of activities for students and alumni. Despite the rain on Friday, the Alumni and Friend Kickoff on The Christy Mall was a great way to get the weekend started. On Saturday, the weather improved the MCAA Awards Ceremony and Athletic Tribute was well attended.
Brady was nominated by Lambda Chi Alpha and O'Hair by the Marietta College Teachers Education Association.
Brady is majoring in Mathematics and Intervention Specialist and is a graduate of Avon Lake High School. O'Hair, the daughter of Brad and Julia O'Hair, is majoring in Early Childhood Education and is a graduate of Maumee High School.
The other Homecoming candidates were: Candice Alexander (Fairborn, Ohio), Kaely Becker (Brunswick, Ohio), Jessica Brognan (Cincinnati, Ohio), Keenan Hamilton (Woodsfield, Ohio), Jackson Herd (San Jose, Calif.), Colin Lancashire (Madison, Wis.), Natalie Mayan (Camden, Del.), Bri Scott (Cincinnati, Ohio), Cameron Smith (Urbana, Ohio) and Brittany Truex (East Canton, Ohio).