Campus and community welcome Class of 2018 to Marietta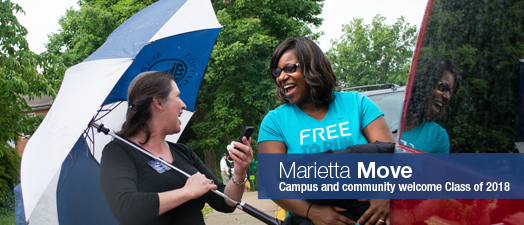 Peta Kalokola '18 (Charlotte, N.C.) and her family had barely finished moving her belongings into her Elsie Newton Hall room when a couple of visitors stopped by for a visit.
Immediately recognizing the visitors, Kalokola's mother, Alice Konde warmly greeted her daughter's basketball coaches, Stacia Schrider and Kole Vivian.
"We stop by to see our incoming freshman players and their families just to make sure they know we're here for them," says Schrider, who is starting her third season as head coach. "It's a big day for the families … we want to be here for them."
Thursday was move-in day for the Class of 2018. Upperclass students, faculty, staff and administrators met the new students and their families to help unpack vehicles and carry items to student rooms.
Schrider noticed that Kalokola, who says she'll play as a small forward on the team, didn't have many bags.
"She only brought one bag of clothes … and they're all basketball clothes," Konde says. Konde is very happy with her daughter's choice for a college. "Her academics got her accepted into all the schools she applied to, but she really wanted to play basketball. Marietta offered strong academics and basketball to her."
Kalokola agreed she chose Marietta for many reasons.
"I loved the cute campus and when I met with the basketball team, they reminded me very much of my high school team. I knew it was going to be a great fit for me. The coaches are family oriented and the players are as well. I also chose Marietta because of the education it offers," Kalokola says.
Her plan is to earn a degree in Health Sciences at Marietta and eventually complete medical school at Columbia University.
"I want to return to my home country — the Democratic Republic of the Congo — and provide medical care there, and I want to be a mom. I love kids and I know I'll be a great mother," she says.
Like Kalokola — who had her mother, aunt and sister with her Thursday — Celina Cantina '18 (Pittsburgh, Pa.) made the Marietta move with many members from her family.
"I'm the first (child in my family) to go to college," Cantina says. "Marietta felt like home. It's starting to hit me that I'm really here but I think it's going to be great."
Her mother, Rochele, father, Patrick, little brother, Gianni, aunt Ros Preaux and pap, Rocco Malarbi made the trip from Pittsburgh to help the freshman Athletic Training major move into her new digs.
"Actually, we needed the extra vehicle to move all her stuff," Malarbi jokes.
Patrick Cantina kept busy moving his daughter's items from the two large SUVs the family drove to the College, though the thought of the drive home was very much on his mind.
"It hasn't really sunk in yet, but it will. She's very excited about being here and knows what she wants to do, so that makes me relax a bit," he says. "I'm very proud of her."
Dr. Bill Bauer, McCoy Associate Professor of Education, was one of the faculty members helping families move their children into the residence halls.
"The most emotional part of the entire first year of college is the letting go part," Bauer says. "If I can make that emotional part just a little easier for the parent or the child, it makes a difference."
Noah Lentz '18 (Willard, Ohio) and his mother, Laurie, weren't expecting so many helpers on move-in day.
"This is the second time I moved a child into college — he's my youngest," Laurie Lentz says. "The first time, it was at a larger school and we were basically left to our own devices. When we got here and I saw the president of the college helping move students in, I just couldn't believe it!"