Campus mourns the death of freshman Joel Wunnenberg
Coach Andy Waddle remembers sitting in his office with then-recruit Joel Wunnenberg and Joel's mother talking about the two-way high school standout football player from Springdale High School in Springdale, Pennsylvania.
"During our conversation, I talked about him becoming a man over the course of the next four years by putting in the work and developing certain skills, and I remember his mom telling that he was already a man and that he already did those things," Waddle said. "She was very adamant about that then. And when I spoke with her (on March 9th), she remembered that conversation and said, even though he was only 18 years old, he was one of the best men that she has ever met."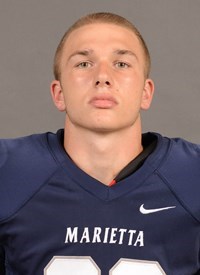 The Marietta College community is mourning the loss of Joel Wunnenberg '20, who died on Thursday, March 9, 2017, when blood clots in his left leg traveled to both lungs. He was 18 years old.
The family will receive visitors from 1:00-4:00 p.m. and 6:00-9:00 p.m., Monday, March 13th, at the Charles B. Jarvie Funeral Home in Springdale. Services will be held at 11:00 a.m., Tuesday, March 14th, at Springdale United Methodist Church.
"Our thoughts and prayers go out to Joel's family," said Marietta College President William N. Ruud. "Our campus community has lost a truly special person."
In addition to being a linebacker for the Pioneers, Joel was a Petroleum Engineering major and McDonough Scholar. He recently became a certified volunteer for the Humane Society of the Mid-Ohio Valley.
"Joel chose a challenging path at Marietta by combining athletics with a Petroleum Engineering Major and the leadership program," said Dr. Gama Perruci, Dean of the McDonough Leadership Program. "However, he excelled in that multiple environment. As a McDonough Scholar, he really set the example for other leadership students by showing determination, calmness under pressure, and always demonstrating a positive attitude in the face of adversity. Excellent role model!"
Students, coaches, faculty and friends gathered Thursday evening at Don Drumm Stadium to hold a vigil in Joel's memory.
"We are deeply saddened by the loss of our fellow Pioneer, Joel," said Student Body President Emily Drabeck '17. "At Marietta, each individual plays an integral role in the community we collectively create. PioNation will continue to honor Joel and create a strong network of support for all."
Waddle says Joel loved the Pittsburgh Steelers, his Ford Bronco and peanut butter. In memory of Joel, the College's dining hall had a special Peanut Butter Bar on Friday during lunch.
"He put it on just about anything he could," Waddle said. "He also loved being part of a team and doing the work involved with that. He really loved working out. While laid back by nature, Joel was still extremely competitive and determined."
Joel was one of the strongest players on the Pioneer football team, and was the second leader in squats.
"He did everything right, even when no one was watching," Waddle said. "He had courage and discipline — everything you want in a player. It wasn't about the glory for him; it was about the brotherhood and the team."
The Pioneers will play this fall with a No. 38 sticker on their helmets to honor Joel, and Waddle said they will also plan other ways to honor his memory.
"We will use this as a rallying cry for our team," he said. "To carry on his will to prepare and to do the right thing, even when no one is watching."