Caring Community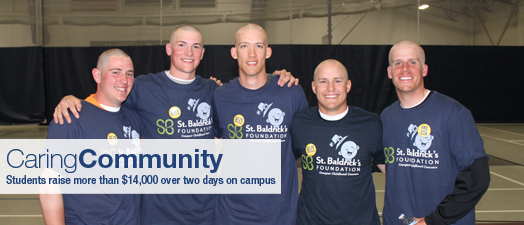 When you hear someone say today's younger generation doesn't care about anything but themselves, maybe you should look at what Marietta College's students accomplished over two days in April.
With two different student-run philanthropy events on the docket for April 5-6, the Pioneers raised more than $14,000 for cancer research.
The weekend started with the biggest fundraiser of them all — the inaugural St. Baldrick's Day. Organized by Zane Eschbaugh '13 (Marietta, Ohio) and Tyler Bates '13 (Smithville, Ohio), along with the women's basketball team, the idea blossomed after they were chatting in a residence hall late in the fall semester.
What they accomplished is one of the more successful student fundraisers in the history of Marietta College as they raised $11,687. Their initial goal was $5,000.
"Tyler and I were shocked by the number of people who attended our St. Baldrick's event and we are so thankful for all the support," Eschbaugh says. "This event hit home for both of us because there are some fundraisers where people volunteer their time and money but, it was nice to see everyone genuinely having a good time while supporting a cause that is close to everyone's heart. Overall, we felt that the event went really well and we hope that someone can keep the positive momentum going and hold the event again next year."
Marietta women's basketball coach Stacia Shrider says it was honor to team with her two student assistant coaches — Eschbaugh and Bates.
"The St. Baldrick's event was a wonderful event that we were very proud to be a part of.  A lot of credit needs to be given to Tyler Bates and Zane Eschbaugh as they were in charge of orchestrating the entire event," she says. "Our girls were happy to aid in such a great cause. We are hoping this can be an annual event not only for women's team, but our entire campus, as well. We are already looking forward to next year."
The St. Baldrick's Foundation is a charity that gets people to shave their heads for donations in the name of children's cancer research. With support from the women's basketball team and coaches, the program gained some serious traction and culminated with 193 people getting their heads shaved for charity.
One of the shavees was Wendy Thieman '04, who ended up raising the most money at $1,400.
"As a participant of the St. Baldrick's event I was happy to see its success," Thieman says. "A lot of heads were shaved but, most importantly, a lot of money was raised for Childhood Cancer Research. I was amazed that not only did the campus participate but a lot of local community members did so as well. What touched me most was the fact that we had two children present who had survived cancer and one family who recently lost their 6 year old daughter to cancer in attendance."
Athletics Director Larry Hiser was pleased to see so many athletes and coaches take up the cause that was initiated by Eschbaugh and Bates.
"Zane Eschbaugh and Tyler Bates, along with the women's basketball team, did an amazing job of planning and executing the most successful student fundraising event I've ever been a part of," says Hiser, who also had his head shaved for the event. "It's a testament to their personalities and work ethic that they were able to mobilize such a large portion of our campus and community. They should be quite proud of their accomplishments on behalf of the St. Baldrick's Foundation."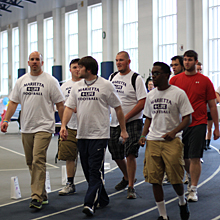 Hiser's excitement over his student athletes didn't stop with the Friday night event. As part of the annual Relay for Life, Marietta's student body raised more than $2,500 toward cancer research. The Pioneer football team raised approximately $1,000 and, with 60 members of the team participating, they walked more than 2,100 laps.
Chelsey Scott '13 (Medina, Ohio), who organized the Relay for Life, says more than 200 students, staff, faculty and community members participated this year.
"This event was not possible without the support of so many students, staff and Chad Gardner, our ACS liaison, who worked hard to organize the event," says Scott, who is president of Colleges Against Cancer on campus. "We were very pleased with the number of student organizations that came out to support this worthy cause. Marietta College's Relay keeps growing and we hope next year it's even bigger and better."